Japanese here: http://lostingumyo.blogspot.jp/2012/12/house-for-sale.html
*************************************
Why do I want to sell my house?
Simple: I don't want to sell my house.
But I do have genuine reasons why I want to sell my house.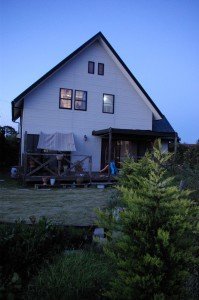 Am I selling it because I'm afraid of another earthquake?
Definitely no. I was at home on March 11, 2011, and watched my house rock as the first earthquake hit. When I went inside, almost nothing had moved (a few books fell down).
I was impressed. In the nearby apartment block, televisions, glasses and other items crashed to the floor. I'm confident my house will be safe in an earthquake.
Am I moving out of fear of tsunami?
No. My house is 10 meters above sea level. Of course, 10-meter tsunamis are possible but are very, very rare. The Boso Peninsula has been hit by big waves in the past but the area where the house is located has apparently never been flooded. The house sits behind a hill and the escape/safety areas are just three minutes away.
Am I moving because of any defect in the house?
No, one of the reasons we bought the house is because it could be lived in immediately.
That applies today. In fact, it's more liveable. We've added various items: outside stairway paving, garden path, grass, three air conditioners, fitted kitchen, IKEA cupboards in the toilet and bathroom, a new water heater, new TV antenna, trees and plants, vegetable garden. We've lived here for five years and maintained it in good condition.
What kind of house is it?
It's a tall, open-plan, European-style house with large windows facing south. It has two rooms upstairs plus a large open loft area. There is a large, storage attic in the roof.
Downstairs, there is one tatami room and a large, long, bright, open living room with sliding doors opening onto the deck. The bathroom and toilet are tucked away at the back behind the kitchen.
And the outside?
The house is situated at the end of a short (100 meters), non-paved road, so it's veryprivate. We park two cars there. Our land is a strange shape and our neighbour's garden appears to cut into our garden. As a result, the garden is almost divided into two (at one stage, our neighbour said she might be willing to sell part of her land to resolve this; I don't know if this is still possible). The garden has many trees. There is a house next door, but the owners have only been there once in five years.
Am I moving because the area is unpleasant?
The area around the house is quiet, the sun and moon rise over a hill (and over the sea), you can see millions of stars, the air and water are clean, the supermarket and drug store are only a10-minute walk away, there are bars and restaurants and coffee shops nearby.
Kazusa-Ichinomiya station is only 10 minutes away by car and it's only an hour from there to Tokyo. Taito port and beach area is a 15-minute walk away. It has a swimming area in the summer and people surf all the year round.
There's also a huge pink apartment block nearby (with some famous tenants from the entertainment world). Some say it's ugly. I think it has an art-deco feel about it and when the evening sun shines off it, it's like being in Miami. More importantly, it's also on the blind side of the house, so you don't notice it. To me, it's like an interesting friend. (And if you make a friend there, you can use the pool and sauna there.)