Bio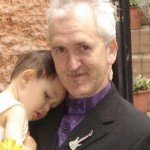 Fred Varcoe is a freelance journalist, loving father, useless husband and desperate golfer who plays his music LOUD!
He is the former sports editor at The Japan Times (fired), former editor of the Number 1 Shimbun (fired), two-time former secretary of the Foreign Correspondents' Club of Japan (dumped) and currently contributing editor to Metropolis magazine.
Fred has written for dpa, Reuters, UPI, Billboard, Time Out, Virgin Atlantic's Hot Air, Volleyball World, the International Volleyball Federation, Golf International, The Golf Times and a number of Japan-based publications. Many of his stories have been stolen and appeared in British newspapers and on websites under other people's names.
He has done editing work for various publications and companies, including the Japan Football Association, Nissan, Metal One, Home and Away, Japan Railways and PanOrient News.
Fred has also written lyrics for musicians in Japan (Masahiro Motoki, Kyoji Yamamoto, Orange Kandy) and South Korea (Sinawe), served as an agent for British songwriter Warren Harry and helped with several music projects in Japan. His lyrics are actually really fucking good.
He was born in an area of Kent that has since been annexed by London and grew up in the English county of Monmouthshire, which has since been annexed by Wales. He is the founder and currently only member of the Monmouthshire Liberation Front.
He has lived in Occupied Kent, Occupied Monmouthshire, Hertfordshire, London, Saudi Arabia, Spain and Japan, and has spent far too much time (or perhaps not enough) in Thailand and South Korea.
He is married and has a daughter, who has already started to take over the world, so you'd better be nice to her (and to her father).
Fred plays all his music at Volume 11.