---
Most Leathernecks viewed Okinawans merely as more "Japs," who might look and act somewhat differently from those the Marines had previously encountered but who were still subject to suspicion and definitely not to be trusted. "All they know about Americans is what they get from Tokyo propaganda," the handouts warned, "so you can expect them to look at you as though you were a combination of Dracula and the Sad Sack— at first, anyway." What Tokyo was telling the Okinawans , and what was being reinforced by a large majority of the Japanese soldiers Tokyo had sent to their island, was that the Americans were devils, in the most literal and loathsome sense of the term. They were devils whose sole desire was to kill Okinawans in the most brutal , merciless ways possible. They would shoot Okinawan men on sight, but instead of a quick kill , they preferred to leave their victims writhing in agony for as long as possible. They would rape and torture Okinawan women and butcher their children before their eyes . At times, they would pretend to be friendly, but the gifts of candy or other food they offered were always laced with poison.
To emphasize these points, some Japanese soldiers supplied the Okinawans with grenades so that they could blow up themselves and their children before the American devils could subject them to their unquenchable bloodlust. But when U.S. troops began finding grenades hidden on civilians, their first assumption was that the explosive charges were intended to hurt or kill Americans, rather than as instruments of self-destruction. Hence, every confrontation between traumatized natives and wary invaders held the potential for violent tragedy. It may have been somewhat worse in the early going, but what no American could anticipate was the depth, intensity— and obsessive power— of many Okinawans' fear. It seemed to have a life of its own.
By their very nature, the Okinawans were a peaceful, nonaggressive people, who hadn't seen armed conflict on their soilin more than 300 years. Then the Americans had come, first to rain fire bombs and high-explosive shells on their cities and towns and later to storm ashore by the tens of thousands, sweeping across the countryside, brandishing their awesome weapons and , it seemed, searching for Okinawans to brutalize and murder.
"The most pitiful things about the Okinawan civilians," said PFC Gene Sledge of K/ 3/ 5, "were that they were totally bewildered by the shock of our invasion, and they were scared to death of us. Countless times they passed us on the way to the rear with fear, dismay, and confusion on their faces."
Author George Feifer cites the case of eleven-year-old Shigeko Sonan, eldest daughter of a family in Gushikawa, a village seven miles east of the landing beaches, near the east (Pacific) coast. Although ordered by the Japanese to evacuate before the landing, the family had elected to stay, and Shigeko, her three younger sisters, and their pregnant mother were terrorized by the preinvasion bombs and shells, some of which landed in their village. In school, Shigeko had been taught all about "subhuman Americans who drowned deformed infants and killed healthy but unwanted babies by bashing their heads against a wall," wrote Feifer in his book, Tennozan: The Battle of Okinawa and the Atomic Bomb. "She knew about their racist yearning to destroy and depopulate Divine Japan, except for the few attractive women they planned to keep for their insatiable animal lust." Not surprisingly, Shigeko was petrified with fear when the invaders began marching toward Gushikawa. When an American plane flew overhead, she believed it was shooting directly at her as she took cover. After the girl's father made his way home from working as an enforced laborer for the Japanese, the family decided to flee with as much food as they could carry and try to reach the northern village where they'd been assigned. But a bombed-out bridge forced them to leave their provisions behind, and they struggled on by foot, traveling only at night.
The family came close to starvation , but when Shigeko and the other children accepted chocolate and K-rations from the Americans, their parents threw the food away, fearing it was poisoned. Eventually , the children's hunger won out, and they ate some of the food, anyway. Otherwise, they subsisted on boiled grass, tree bark, edible palms, and discarded half-rotten sweet potatoes. As the family fled from one end of the island to the other, some of the huts where they hid were burned by advancing U.S. troops, and Shigeko witnessed the rape of a young woman by two American soldiers. At the scene of a fierce battle, they came upon dozens of blown-apart Japanese corpses. Too weak from hunger to dig deep enough to bury the bodies completely, they collapsed from exhaustion among the corpses, stuffing leaves in their noses in an effort to block out the smell. The family's plight continued for more than three months and might have lasted longer if Shigeko's mother hadn't given birth while seriously ill with malaria. The children were walking skeletons, and, because of her illness, Shigeko's mother had no milk for the baby. Faced with all this, the girl's father finally brought his family down from the mountains and surrendered to the Americans. Within a few hours, they were in a detention camp, where they were fed and sprayed with DDT, but the ordeal had been too much for Shigeko's four-year-old sister , who died a few days later of illness and malnutrition. Surviving family members weren't allowed to return to their village for ten months after the fighting ended, and when they got there, all their possessions were gone. Despite this, the Sonans were luckier than most Okinawan families. Only one family member had succumbed to their ordeal; none had met violent death at the hands of the American devils , and none had committed suicide.
Corporal Don Dencker of the 96th Infantry Division's 382nd Regiment, Second Battalion, had paused in the drive east across the island when he confronted his first civilians. As Dencker and his buddy, PFC Ernie Zimmer, were setting up their mortar and dining on K-rations, they noticed an Okinawan woman come out of a cave on a nearby hill. She glanced down at the two GIs for a moment, then quickly ducked back inside. Dencker hadn't seen even one Japanese soldier, either dead or alive, since coming ashore, but he decided the cave warranted investigation. With Zimmer covering him, he drew his .45 and approached to within about fifty feet of the entrance. "De-tay-ko-ee!" Dencker yelled. The strange-sounding phrase meant "come out" in Japanese and was among three or four potentially useful expressions included in the GIs' preinvasion orientation. Dencker waited. When nothing happened, he eased closer to the cave and yelled again: "De-tay-ko-ee!" This time , seven figures slowly emerged— three women, two children, and two old men— and stood staring at Dencker in obvious terror. When he motioned them forward, they took a few halting steps toward him, then stopped. The women sobbed and whispered nervously to each other. "Move! Move!" Dencker shouted, advancing to within a few feet of the group and pointing to the path that led down the hillside. The Okinawans still stood there immobilized by fright until one old man stepped forward . He pointed to the pistol in Dencker's hand, then to his own head, repeating the gesture several times until its meaning became distressingly clear: He was asking— actually pleading— for Dencker to shoot him in the head. Dencker refused, of course, and after several more minutes, he managed to coax the group down from the hill and into the company's defensive perimeter. When two MPs showed up a short time later and led the civilians away to one of the detention centers hurriedly being set up in rear areas , Dencker felt a surge of relief. For the time being, he thought , the war was over for these Okinawans, and they'd been spared— in part, at least, from themselves and their own anguished fears. But as Dencker and his comrades would later see with their own eyes, thousands of other innocent noncombatants would be denied this little group's good fortune. Within the next few days, they would come across the bodies of dozens of civilians who had died of self-inflicted wounds.
CORPORAL DAN LAWLER of K/ 3/ 5' s machine-gun section had never seen kids refuse to eat candy— not until now. But the little Okinawan boy, who looked about seven years old and had ventured out of a cave with his younger sister, was adamant about it. When Lawler held out a K-ration chocolate bar to the boy, he shook his head so hard that Lawler was afraid it would fall off his skinny shoulders. "They were the cutest damn kids you ever saw," Lawler recalled more than sixty years later. "Neither one of them appeared to be injured, but they were both so scared they were shaking, and their clothes were streaked with dried blood." Lawler continued to hold the chocolate bar out toward them, smiling and awkwardly repeating a phrase that he thought meant, "Don't be afraid. Come on out, and we'll give you some food." The boy shook his head again, his eyes wide with fright. "The kid thinks the candy's poisoned," said Lawler's assistant gunner. "The Japs've told these people if they ask us for anything we'll kill 'em. Maybe if you took a bite of the candy yourself, the kid might change his mind." Lawler shrugged and bit off a corner of the bar. He chewed it up and swallowed it, then licked his lips. "See, it's good," he coaxed. "Come on, try it." The boy took a couple of steps forward with his sister peeking out from behind him, then he hesitated and shrank back. Lawler broke the other corner off the bar and ate it, too, with elaborate expressions of enjoyment . "Umm, that's really delicious! You'd better come on and get it before I eat it all." The kids couldn't stand it any longer. The boy sidled up to Lawler, took what was left of the bar, broke off a piece for his sister, then gobbled down the rest. He managed a small smile as he turned and shouted something toward the cave. Then a whole group of Okinawans crept out into the daylight, smiling, bowing, and moving in slow motion with their eyes glued to Lawler and the other Marines. There were eight of them in all—two other children, two women, and two ancient, virtually toothless men. "We gave them all some candy," Lawler recalled, "but they still refused to touch it unless one of us ate some of it first. You could tell they didn't trust us as far as they could throw us."
As Ushijima's army deteriorated into small groups, desperate soldiers sought any means to elude advancing U.S. forces. Many attempted to slip past American lines by posing as civilians and mingling with women and children. "Near Itoman, we set up trip wires across the road that would set off flares if anybody hit one of them," recalled Lieutenant Colonel Spencer Berger, commanding the Second Battalion, Seventh Marines. "That night, a mass of people— about 150 of them— came along and set off our flares. Many of them appeared to be women in kimonos, but then our guys noticed that some of them were also wearing boots." Berger hesitated only a few seconds before ordering his troops to open fire. Almost every member of the group was killed —including more than forty kimono-clad Japanese soldiers.
Between June 1 and June 23, when the battle for Okinawa would officially end, American land and naval artillery eclipsed their earlier bombardments by pouring nearly 7 million rounds into the compressed southern area where the refugees crowded among the remnants of Ushijima's army. Dead and dying civilians littered the roads and roadsides as dazed orphans and maimed adults dragged past, some crawling on hands and knees, with no concept of where they were going. To Tokuyu Higashionna, an Okinawan schoolteacher who crossed the area while trying to reach the town of Kyan on the southern coast, the scenes of mothers carrying dead children and living children lying on the corpses of dead mothers defied description. It was, he said, "Utter horror… dead everywhere … everywhere!…literally hell." Every tragedy seems to have its elements of irony. The irony of this one was that, if the Okinawans had only done as they were instructed by either the Japanese or the Americans, the vast majority of civilian deaths could have been avoided. The Chinen Peninsula, which juts into the Pacific Ocean about four miles southeast of the town of Yonabaru, and where the civilians had been ordered to go by the 32nd Army, was almost totally untouched by the fighting. Likewise, if the noncombatants had assembled on the west coast highway and avoided Japanese troops, as the American leaflets urged , they also would have found safe haven, along with sufficient food and water, in the detention camps. As it was, however, close to 15,000 civilians are believed to have died during the retreat from Shuri alone— about the same toll suffered by Japanese troops— and those who survived then found themselves in a grinding trap between the armies from which there was no escape.
Evidence suggests that extremely few Okinawan civilians were actually "gung-ho" enough to stage deliberate attacks against Marines or GIs. But the thousands who leaped to their deaths from high cliffs, slashed their children's throats, or blew themselves to bits with Japanese-provided hand grenades to avoid American brutality are ample proof that the Americans' distrust was returned a hundredfold. Some sources contend, however, that the majority of Okinawans didn't commit suicide but became victims of disease, starvation, Japanese atrocities, and indiscriminate American bombing and shelling. "[ T] he greater number of civilians slaughtered on Okinawa… more often died in days or weeks rather than minutes," wrote historian George Feifer, "with that much more time to witness the agony of their families." Meanwhile, some of the same Japanese soldiers in whom the Okinawans had placed infinite trust became the natives' worst enemies. As the soldiers grew more desperate for food, water, and temporarily safe shelter, they systematically slaughtered men, women, and children who got in their way. Numerous eyewitness accounts tell of Japanese soldiers murdering crying children in cold blood for fear their cries would attract Americans to the soldiers' hiding places. Military deaths on both sides of the battle totaled just under 120,000— at least 20,000 fewer than the number of noncombatants who died during the same period, according to official estimates. Virtually every Okinawan lost family members to the battle . About one of every three civilians living on the island in the spring of 1945 was killed. As the Japanese 32nd Army was collapsing and during the final mop-up by American forces, approximately 80,000 Okinawan civilians surrendered to GIs and Marines. Up to half of these were wounded, and many might well have died without the food, medical care, and other assistance they received at U.S . refugee centers.
Sloan, Bill (2007-10-23). The Ultimate Battle: Okinawa 1945–The Last Epic Struggle of World War II (pp. 310-311). Simon & Schuster. Kindle Edition.
---
By FRED VARCOE
Congratulations, Scotland, you've got a referendum. As a resident of Monmouthshire, nobody ever asked me if I wanted to live in Wales. Where was my fucking referendum when Monmouthshire was moved from England to Wales in 1974? There wasn't one. The best I could do after that was to vote Plaid Cymru in the hope that Wales would just fuck off and leave the rest of England alone.
I'm English, but possibly up to a quarter Scottish (Douglass and Brown if you're tribally inclined), so where should I stand on the Scottish referendum?
I'm English, so why should I give a fuck? In truth, if Scotland's getting a referendum on independence, England, Wales and Northern Ireland should be getting the same choice. Would I like to be independent of Wales? Fuck, yes. Scotland? Don't have a strong opinion about that, but it wouldn't worry me.
So what should the Scots do?
Well, they have to think about the currency, security, the EU, oil, their health system, the national debt….but, wait a minute…..
NO THEY FUCKING DON'T!
They have to ask themselves:
1. Do I feel primarily Scottish or British?
2. Would I rather live as a Scot under a Scottish government or as a Scot under the cunts who make up the British government?
YES or NO?
Scottish NO voters (why the fuck do foreigners in Scotland get a vote?) will, I believe, vote NO on the basis of security. They think things will be more secure, safer, more economically sound under a British government.
They can never go back to a union again. FALSE
They can't use the pound. FALSE.
They'll be shut out of the EU. FALSE.
The oil fields are in English waters. FALSE.
Banks will desert Scotland. FALSE.
You won't have a queen any more. FALSE.
While Alex Smugbastard may not be the poster boy I'd want for my country, I think I'd vote for him rather than the scaremongering and lying fuckheads in Westminster: David Camerloon, Corporal Clott and Ed Moribund. These people deserve to die horrible political deaths. They've already thrown away Britain's sovereignty to the even bigger cunts of the EU, so why are they bleating about a country that wants self-determination? Is Scotland Palestine in disguise?
Can separation work? Well if can work for the Czech Republic and Slovakia, Estonia, Latvia and Lithuania, Ethiopia and Eritrea, Sudan and South Sudan and the countries that used to belong to Yugoslavia, why the fuck can't it work between two brotherly countries of the United Kingdom? And most of those countries above were separated violently; this is being done by a referendum. It's about what people want, not what they've been forced into.
So the Scots are free to make a free choice. Good luck to them is what I say. If they vote to stay within the United Kingdom, I'll be fine with that; if they vote to go their own way, I'll be happy for them and, as a brother Englishman and part Scot, I'LL TRY TO HELP THEM, NOT TRY TO FUCK THEM UP.
The referendum's a good thing.
Now bring on the fucking EU referendum. NOW!
---
YOKOHAMA, Japan, September 9, 2014 – Defensive mistakes spoiled Javier Aguirre's second game in charge of Japan as his team twice let leads slip away in a 2-2 draw with Venezuela at Nissan Stadium in Yokohama.
After their 2-0 defeat to Uruguay in Sapporo on Friday, Japan started off brightly enough with Keisuke Honda firing just over the bar after 12 seconds. But it was a bit of a false dawn as the first half descended into a scrappy contest.
Venezuela's Rosales forced Japan goalkeeper Eiji Kawashima into a good save after 11 minutes, while Mario Rondon's volley went wide in the 24th minute.
Kawashima was again called into action to save from a decent effort by Rondon on the half-hour mark after some some poor play by Hosogai let the Venezuelans in.
Venezuela continued to carve out chances but luckily for Japan the next three went off target.
Japan sparked only occasionally but a nice move in the 38th minute forced a save out of the Venezuela keeper Herndandez.
Aguirre realised changes were necessary at the break and took off the lightweight pair of Yoichiro Kakitani and Yuya Osaka in favour of Shinji Okazaki and Yoshinori Muto.
The change paid off quickly for Japan.
Six minutes into the second half, Muto seized on a poor clearance from Venezuela, sprinted forward 30 meters and rifled in a left-foot shot from just outside the box.
Things were looking up and Maya Yoshida showed his confidence with a superb covering tackle in the 54th minute on Mario Rondon.
But three minutes later his fellow defender Hiroki Mizumoto let him down. The Japanese defender allowed Guerra to rob him of the ball in the middle of the park and after a chase into the box, brought him down.
Rondon stroked the penalty down the middle to make the score 1-1.
Suddenly, the game was livelier. Honda was able to be more involved than the first half when there was no pattern to Japan's attacking play, Muto was looking confident and Yuto Nagatomo started to make more runs down the left in conjunction with Okazaki.
And it was Okazaki who turned it on for Japan's second goal in the 67th minute. He sped down the left and put in a hopeful ball to the center where Gaku Shibasaki was on hand to sweep the ball home with a nicely controlled downward shot from 10 meters.
After Vizcarrondo brought down Muto just outside the box, Honda had a chance to put the poor free-kicks from Friday's game against Uruguay behind him and he did well but saw his shot rebound off the inside of the post.
That was to prove costly when Cichero unleashed a speculative shot at the Japan goal in the 71st minute. Kawashima had it covered all the way but let it slip through his gloves to make the score 2-2.
Kawashima made up for that with a neat save from a Rosales long shot in the 84th minute, but Japan couldn't pull another goal back and Aguire will have to wait another month for his first win.
---
By Fred Varcoe
SAPPORO, Japan, Sept. 5, 2014 – Javier Aguirre had a disappointing start to his reign as Japan manager after his side lost 2-0 to Uruguay at the Sapporo Dome on Friday.
Japan gifted Uruguay a goal in each half – Edinson Cavani in the 34th minute and Abel Hernandez in the 71st minute – and struggled to create chances.
Aguirre opted to play with Hiroshima's Yusuke Minagawa up front and a back four of Yuto Nagatomo, Maya Yoshida, Tatsuya Sakai and Hiroki Sakai. Masato Morishige and Hajime Hosogai played in front of them, with Keisuke Honda, Shinji Okazaki and Sporting Lisbon's Junya Tanaka providing the attacking impetus in midfield.
Japan started brightly enough and were able to keep Uruguay in their half of the pitch for much of the first half. Okazaki had an early but weak shot, while Honda planted the first of a series of free-kicks in the Uruguay wall.
In the 14th minute, Nicolas Lodeiro took a free-kick and Cristian Rodriguez had a free header but put his effort over the bar from 6 meters out.
Okazaki responded with some dazzling work down the left to give Minagawa a similar chance, but the Sanfrecce Hiroshima striker also headed over.
Japan came under pressure around the 25-minute mark and made a couple of very poor defensive headers, a sign of trouble to come as it turned out.
In the 34th minute, Hiroki Sakai played the ball back to his namesake Tatsuya who had the simple job of controlling the ball and getting rid of it as two Uruguayans bore down on him.
Unfortunately, he failed to cushion the ball and let it run to Cavani, who offloaded it to Diego Rolan. Cavani ran for the rebound before squeezing the ball past goalkeeper Eiji Kawashima and a desperate lunge of atonement from Sakai. Japan 0, Uruguay 1.
To be fair, Japan had acquitted themselves decently up to that point and the game was open, perhaps even there to for the taking by whichever team showed a bit of drive and imagination. Tanaka was looking the most likely to do the job for Japan but he didn't have enough strong support.
Japan need to find another Yasuhito Endo, a player who can take the ball and distribute it with ease. Japan were also missing Makoto Hasebe in defensive midfield and while Morishige did a decent job, Hosogai still has to turn in a convincing performance for the national team.
Tanaka's last major contribution was a decent 25-meter shot that went straight to Uruguay keeper Fernando Muslera. He was replaced by Yoichiro Kakitani with about a quarter of an hour to go.
Before that, Uruguay had gone 2-0 up. Hiroki Sakai, who had one of the first half's dodgy headers, inexplicable headed a cross back into his own box. Kawashima made a great save from Lodeiro's fierce shot but Tatsuya Sakai couldn't clear the ball and Hernandez rushed in to fire it home from close range.
Honda had time to fire his third crap free-kick into the Uruguay wall as Japan resorted to negative play and didn't look like scoring.
However, in a rare ray of hope, substitute Yoshinori Muto saw a lovely 25-meter volley bounce off the inside of the post in the 88th minute.
Japan weren't going to get any closer than that and will have to hope for better luck against Venezuela on Tuesday.
---
 By Fred Varcoe
The traditional image of your average embassy is that they are there to protect a country's citizens. My traditional image is that embassies are there to help move the country they represent closer to the country that hosts them.
The traditional image is complete rubbish, of course. Embassies exist to glorify the country they represent, to push the policies of the government in power and to drum up business and money. Citizens in trouble hamper these ambitions and are usually treated as dog shit on one's shoe.
Take the case of my friend R in Saudi Arabia. She unwisely got pregnant to a married man. OK, he wasn't a Saudi but a good stoning was still a possible outcome.
I know, she thought, I'll get the nice people at the British Embassy to help me.
Er, it's not our kind of business, the embassy people said, meaning, of course, that unless you help the UK make lots of money, you are of little use to us, so why should we be of use to you.
Luckily, R's father did make lots of money for the U.K., and after phoning the Foreign Office, the lackeys at the embassy in Jeddah got R home where she could have her baby.
The British Embassy describes its role like this:
"We develop and sustain the important and long-lasting relationship between the UK and Japan. This involves dealing with a wide range of political, commercial, security and economic questions of interest to the UK and Japan.
"The British Embassy in Tokyo, together with the British Consulate-General in Osaka, represents the UK government in Japan. Our two offices work together to support the full range of British interests in Japan: international cooperation in support of our values and working to reduce conflict; building Britain's prosperity through increased trade and investment in open markets; and supporting British nationals who visit and live in Japan through modern and efficient consular services."
The bit about helping British citizens seems to be a bit of an afterthought.
Recently, Britain's ambassador to Japan, Tim Hitchens, made it clear that British embassies are more concerned with commercial benefits than British citizens, with business and political relationships rather than human relationships.
In 2012, the British government introduced legislation that seriously penalises British citizens married to non-EU spouses. The Guardian quoted Home Secretary Teresa May as saying that British citizens can marry who they want, but "if they want to establish their family life in the UK, rather than overseas, then their spouse or partner must have a genuine attachment to the UK, be able to speak English, and integrate into our society, and they must not be a burden on the taxpayer. Families should be able to manage their own lives. If a British citizen or a person settled here cannot support their foreign spouse or partner they cannot expect the taxpayer to do it for them."
Part of that seems reasonable, but does it seem fair?
Know this; earn this
My wife is Korean. We carried our earlier married life entirely in Japanese. The new rules require a reasonable level of English. She might have that now, but if we wanted to go to the U.K. halfway through our 15-year marriage, her level of English would not have been high enough and she would have been rejected on those grounds.
She is also required to have knowledge of life in the U.K., including useless facts such as: How many members does a jury have in Scotland/ Which daughter of Henry VIII was a devout Catholic and persecuted Protestants?/ In which year was the National Trust founded by three volunteers? Where is Europe's longest dry ski slope situated?
My wife has been to the U.K. many times and even stayed with my mother for six weeks (when her English – but not her sanity – improved). She knows more about English life than someone who can remember that French people called Norman invaded in 1066 (and I only learned this week that the Normans were actually relocated Vikings). She can make shepherd's pie, Yorkshire pudding, porridge and marmalade. She understands her British husband and where he's from (although it often seems that he doesn't). She didn't need to speak English to understand this and she doesn't need to know how many inches there are in a yard to understand British culture.
You can't quantify a relationship!
Oh, but the British government is trying. Childless couples where one partner is British and the other non-EU must earn a minimum of £18,600 to be allowed to settle in the U.K. If you've got children, you have to earn more.
Auberon Waugh wrote in in Another Voice: "The whole language of politics is geared to treating anything as good which is conducive to general prosperity, anything as bad which is detrimental to it. Often one finds whole passages of political rhetoric … which assume that this pursuit of prosperity is the only and supreme Good."
Oscar Wilde's perspective is still definitive: "People nowadays know the price of everything and the value of nothing."
This is true of the British government and current ambassador to Tokyo Tim Hitchens doggedly follows the government line. Here's his meandering and totally unconvincing response to my question concerning the restrictive and illogical new immigration rules for spouses of British citizens (who, like my wife, can also be parents to British citizens):
"We live in democratic societies and therefore need to respond to the pressures from our electorate and there are two different strong pressures that are operating in the U.K. at the moment. One is the need to achieve growth to pull out faster from our economic difficulties and the other is the need to control legal immigration. Those are two very powerful messages that come from the electorate and therefore one has to get the balance right between those two. It'll mean that there are tough rules that are unpopular with certain people who want to come and which are very popular with the electorate and there are other moves which encourage businesses to work and to allow us to have more students coming, allowing a loosening of visa rules on Japanese businesses operating in the U.K. which some in the U.K. population may wish we didn't do because that seems a bit loose to them, but our judgement is that … [garbled] … we keep on having an open economy and encouraging investment in the UK. So those are the two competing forces. I don't think that this is an issue that is particular to Britain and I think this is exactly the same debate that you would get if you were trying to get into France, if you were trying to get into the United States or if you were trying to get into Japan, and it will always be one of the hardest issues to respond to because everyone will have a personal vested interest in the particulars of the policy and moving it back to the democratic legitimacy of the policy is a painful thing for that person to do. So that's my honest response at the general level but it won't satisfy you on a personal level because these are tough rules."
It won't satisfy me on a personal level because it's a rubbish answer and if it's really a policy, it's a rubbish policy.
It's the economy, stupid
First of all, the electorate in Britain is demanding an end to uncontrolled immigration. I'm sure the ambassador would say that immigration is controlled. Yes, there are rules, as we can see from the above, but they are haphazard at best.
Why do people want to control immigration? Is it about economics and jobs? Partly. British people see foreigners coming to Britain and finding jobs when the native population can't, but of course in part the incoming foreigners are plugging a gap in the job market (as well as undercutting the rates of their British competitors). So, there may be an economic argument for both allowing them in and keeping them out.
But is there an emotional one? The main problem with immigration is that many people don't want to live alongside people from other cultures. This is not universally true, but in Britain it's hard enough for a northerner to settle in the south, let alone alongside a Korean or a Pole or a Bangladeshi. The history of India demonstrates that. The Indians were united in their desire to get rid of the British and divided in their approach to independence, which resulted in three imperfect countries (invariably at each other's throats) instead of one. Point me to a country where immigration has benefitted the integrity and culture of a country (and no, the USA is not the right answer). Accepting outsiders is hard for most people. It's not impossible; just hard. The British government seems to think that if you earn £18,600 and know why Hastings is pertinent to British history, it's easy.
Quantify. Quantify. Hitchens went on to talk about the EU but to him – representative of the government of David Cameron (oh, and Corporal Clegg) – it again came back to how much the EU can do for Britain's business:
"The single market is the key reason that Japanese investors want to be in the UK and I personally find it difficult under any circumstance to imagine any government wanting to take the UK out of the single market."
The problem is not one of a single market; it's one of a single culture. The EU is trying to homogenize an amazingly diverse and culturally rich continent. As with politics, culture is largely local. Countries and their culture evolve from small communities. The EU's attempts at a form of affirmative action and the undermining of national interests is going to tear countries – and the continent – apart. David Cameron says if the Conservative get in with a clear majority at the next election, he will put forward a yes/no referendum on EU membership two years later. That's nearly four years away. He's trying to dodge the issue. Britain should have had a referendum way before this. You will remember that Britain did have a referendum on entering the forerunner to the EU, the Common Market. The people of Britain said yes – to joining a small economic community in Western Europe, not to a monolithic, federalised pseudo-state.
Citizens of 28 countries can walk into my country, find a job, claim benefits and even get housing from the state. Nobody asked the citizens of my country if this was a good idea. Meanwhile, my wife of 15 years, has to jump through hoops to stay in Britain and be a mother to my 5-year-old daughter if I choose to go back home. The British government seems to think that Britain needs operate at maximum commercial capacity to survive in the modern world. Britishness, it seems, is something it can sacrifice on the altar of commerce.
Why should I have fewer rights to a family life in the U.K. than a couple from France or Slovakia? Why should a non-EU criminal have the right to a family life but not me (see here for one example of many: http://tinyurl.com/6ajkvx5). I married a woman I loved, but she's not of sufficient commercial value to the country I was born in to allow her to reside there.
I wish I could rediscover the country I was born in, but it's not there anymore.
---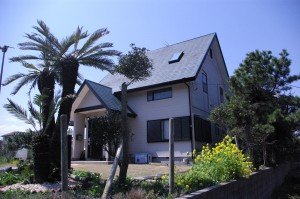 Japanese here: http://lostingumyo.blogspot.jp/2012/12/house-for-sale.html
*************************************
Why do I want to sell my house?
Simple: I don't want to sell my house.
But I do have genuine reasons why I want to sell my house.
Am I selling it because I'm afraid of another earthquake?
Definitely no. I was at home on March 11, 2011, and watched my house rock as the first earthquake hit. When I went inside, almost nothing had moved (a few books fell down).
I was impressed. In the nearby apartment block, televisions, glasses and other items crashed to the floor. I'm confident my house will be safe in an earthquake.
Am I moving out of fear of tsunami?
No. My house is 10 meters above sea level. Of course, 10-meter tsunamis are possible but are very, very rare. The Boso Peninsula has been hit by big waves in the past but the area where the house is located has apparently never been flooded. The house sits behind a hill and the escape/safety areas are just three minutes away.
Am I moving because of any defect in the house?
No, one of the reasons we bought the house is because it could be lived in immediately.
That applies today. In fact, it's more liveable. We've added various items: outside stairway paving, garden path, grass, three air conditioners, fitted kitchen, IKEA cupboards in the toilet and bathroom, a new water heater, new TV antenna, trees and plants, vegetable garden. We've lived here for five years and maintained it in good condition.
What kind of house is it?
It's a tall, open-plan, European-style house with large windows facing south. It has two rooms upstairs plus a large open loft area. There is a large, storage attic in the roof.
Downstairs, there is one tatami room and a large, long, bright, open living room with sliding doors opening onto the deck. The bathroom and toilet are tucked away at the back behind the kitchen.
And the outside?
The house is situated at the end of a short (100 meters), non-paved road, so it's veryprivate. We park two cars there. Our land is a strange shape and our neighbour's garden appears to cut into our garden. As a result, the garden is almost divided into two (at one stage, our neighbour said she might be willing to sell part of her land to resolve this; I don't know if this is still possible). The garden has many trees. There is a house next door, but the owners have only been there once in five years.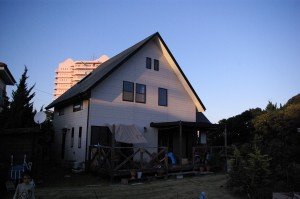 Am I moving because the area is unpleasant?
The area around the house is quiet, the sun and moon rise over a hill (and over the sea), you can see millions of stars, the air and water are clean, the supermarket and drug store are only a10-minute walk away, there are bars and restaurants and coffee shops nearby.
Kazusa-Ichinomiya station is only 10 minutes away by car and it's only an hour from there to Tokyo. Taito port and beach area is a 15-minute walk away. It has a swimming area in the summer and people surf all the year round.
There's also a huge pink apartment block nearby (with some famous tenants from the entertainment world). Some say it's ugly. I think it has an art-deco feel about it and when the evening sun shines off it, it's like being in Miami. More importantly, it's also on the blind side of the house, so you don't notice it. To me, it's like an interesting friend. (And if you make a friend there, you can use the pool and sauna there.)
---
By Fred Varcoe
I always thought Okayama was a fairly industrial type of place. Still, my opinion was immaterial as it was a place I never stopped at and never thought I'd visit. It's famous for pink peaches, a green garden, a black castle and some stupid mythical kid (Momotaro, the peach boy), but really it's just an ordinary provincial town between Kobe and Hiroshima.
I tried to gauge the buzz of the place by engaging in conversation with two very hot schoolgirls. Both had their uniform skirts hoisted high, one had blue contacts and they were good-looking girls.
"Where you going?" I asked casually, detecting that they really wanted to get to know me.
"Station," came the reply with a giggle. Not a schoolgirl giggle really; childish, yes, but not stupid cute.
"You just finished school?"
"No. Today's a holiday."
"But you're wearing your uniforms. What have you been doing?"
"Playing…"
"In your school uniforms?" My fantasy life flashed before me.
"Yes, we like the uniforms." So do I, honey.
"I'm heading for Starbucks." I didn't want to be too pushy. Play it cool, I thought.
"OK, fuck off."
Ah, er, OK.
Alright, they didn't tell me to fuck off directly, but they did in that way that young girls can, and do. They wanted to talk to the gaijin for a minute; that was about as much intercourse as they needed.
They probably weren't schoolgirl prostitutes and as I only have 1,000 yen to last me for the rest of the year, it wouldn't have mattered anyway. But as I glanced around the streets of Okayama, it seemed to be full of provocatively attired teenagers. Was this place populated entirely by teenage prostitutes or was it my imagination?
Unfortunately, it was my imagination. I mentioned the fact on my Facebook page and my "friends" demanded pictures. Next day, I was ready with my phone camera, but all the teenage prostitutes had gone. In fact, I couldn't find any prostitutes at all at 10 a.m. Strange town.
"It's Saturday night
And I've just got paid,
Gonna find a whore
And try to get laid."
Yes, I'm sure that's what Bill Haley sung in his famous groundbreaking rock 'n' roll classic "Cock Around the Clock." But it didn't apply to me, 'cos it was Thursday night, I hadn't got paid, I wasn't trying to find a whore and I never get laid. I've just finished my work and I'm plodding along the streets of Okayama. The internet tells me there are two bars that might be of interest to me.
"On weekdays (nights) there is nothing to do, but there are some bars around the main street. Aussie Bar is one of them which is a 'gaijin bar,' literally foreigners bar. It's a friendly Australian bar but not so crowded on weekdays (even weekends recently). Weekends you can go to Club Matador, which is a Latino dance club with English-speaking staff. Friday nights they have salsa parties, which are not crowded, but on Saturday nights every bored foreigner and Japanese ladies who are looking for foreign guys are gathering there. The musics (sic) are South American-based boring stuff, but after few drinks you may like it. The place is hard to find and not so close to the station. It's somewhere in Tamachi area (adults area)."
Ah, a ringing endorsement in disguise – or in disgust. I hit the streets, walking away from the east side of the station where I'm staying. According to the map, there's nothing on the west side (although a couple of people I talk to tell me their favorite eating and drinking places are on the west side). I head up the street from my hotel. It seems relatively lively. There's a couple of late-night coffee shops (they're even hard to find in Tokyo), some bars and izakaya. Nothing adult. No schoolgirls, not many slutty looking women – in fact, not many people at all. Five minutes up the street, I'm outside the "hard-to-find" Club Matador wondering if I should chance their tempting-looking chicken and chips. Seems surprisingly pricey. Half a chicken and chips is 1,500 yen, 600 yen more than I pay at the press club in Tokyo. Let's walk some more.
A few yards beyond Club Matador I'm standing on a tree-lined road that is split in two by a narrow, fast-moving river. It's really very pleasant. That and the trams make the city seem very parochial. It's like a throwback in time. I'm tempted by the smart-looking tapas bar I see, but that would also involve spending more than I want to. I wander further up the street past a pink-signed soapland advertising some cute local gals, none of whom appear to be teenagers, schoolgirls or partial to clothing. There's a conveniently placed hotel to the rear. I circle back towards Club Matador and opt to stroll up the road-lined river.
Las Bimbas
Here's Skippers, obviously trying to look like an English pub – and succeeding until I look at the menu. Pizza, pilaf, chili con carne? I glimpse inside. It looks alright. I'll check it out another night when I might be in the mood for British pilaf. (I tried; it was closed.) Cafe Gong looks tempting in a dingy kind of way, but I have my walking boots on now and can't stop. A deluxe darts bar looks OK (they have a Guinness sign outside), as do the modern-looking Agate and Shelter, but I end up outside Club Matador again and I'm hungry. I would really like their chicken and chips – so I order the guacamole plate. It's barely passable (for 800 yen) and the bimbo next to me insists on nicking some of my doritos. Her (cuter) bimbo friend passes, but smiles in a non-patronising way. (Japanese bimbos are masters in the art of the withering smile; I'm sure they teach it at bimbo school.)
Bimbo 2 works in a dentist's or is a dentist, or maybe she just likes teeth. Or perhaps she's offering to clamp her teeth around my …. I really should learn more Japanese. Such faux pas could prove embarrassing. Anyway, it's Thursday night and the two are out enjoying themselves, which seems to involve trying every cocktail on the menu.
"What's that?" I inquire of the pink monstrosity in front of B2.
"It's pink," she replies.
"OK, but what flavor is it?"
"Errrr….."
I take a sniff.
She smells nice.
I sniff the drink.
Oh my god.
"It's strawberry. It's like a milkshake."
"It's got vodka in it," Ippei, the English-speaking barman tells me.
Ippei is a handsome young chap who looks like he knows the bimbo sisters, or at least wants to undress them. His English isn't perfect, but he's very friendly and happy to talk. Unfortunately, he doesn't have much to say. I tell him I was looking for the Aussie Bar, but was told it had closed down. I had asked three women I was working with in Okayama where the best places in town were, in particular the Aussie Bar. It was closed they said. So I asked them where I could go instead.
"To eat?"
"To drink, you know, a bar."
"……………."
Clueless. I'm not sure they even knew there was an east side to the station.
Luckily (a relative term in this context), I met Ippei.
"I'm working there tomorrow night," he says. "Come along."
Bimbo 1 has a headache, is whining and has decided to fall asleep in her food. I'd asked her what she does for a living.
"Nothing."
What do you do all day?
"Sleep."
What do you do at night?
"Drink."
"Are you a whore?" I imagined a brave version of me asking her.
"Of course I'm a fucking whore, you idiot. Do you think a normal person would dress like this?" I imagined her reply.
"Where's the Aussie Bar?" I ask Ippei.
"I'll draw you a map."
Nice guy.
Fifteen minutes later he presents me with a map on a small but detailed piece of paper. He's even colored in the river. If I'd had the time, I think he would have built me a three-dimensional mock-up of the area. It's a very intricate map for something that only needs a few swift strokes of the pen. It turns out all he had to do was say: Go outside, turn left at the river and walk for three minutes.
The bimbos are becoming boring. The foxy barmaid is anything but – but she ignores me. Barman No. 2 grudgingly says hello. He says he's Mexican. All his buddies speak Spanish. One plonks himself down beside me (I think to avoid sitting next to the black guy a few stools up.) I look at him; he looks at his drink. I look at my drink. I look at him again. He looks at his drink. I look at the barmaid. She looks at his drink. Time to leave.
Lowered expectations
"It's Saturday night and…" I grab Ippei's map and go in search of the Aussie Bar, which, of course, is just around the corner from everything else.
I cross the main street that leads from the station to the castle.
Everything goes dark. It was like someone had turned off a light switch. If there was actually anything there, I would call it the sleazy part of town. But it was just gloomy. There's one place near the main street called the ORZ Bar. Is that it? I didn't actually check what the Aussie Bar was called. You'd expect Waltzing Matilda or Ned Kelly's Last Stand or the XXXX Bar or the Where the Bloody Hell Are You Bar. I decide the ORZ Bar isn't it. Shame, it looks quite decent. As I venture further into the gloom, a dull yellow sign appears.
It says: "Aussie Bar."
Great name.
I lower my expectations.
But it looks like a bar, a British bar really. Ippei is sitting next to the fridge and offers me a stool. He introduces me to the owner, Jason. Pleasant enough.
I'm hungry.
"What's on the menu, Ippei?"
Not much, as it turns out. Mexican pilaf, chicken and rice, a dog turd and sausages.
The dog turd sounds tempting.
"What kind of sausages do you have, Jason?"
"Err…"
"Are they Japanese, or English style or German frankfurters, or what?"
"Errr… I don't know. I think they're Japanese."
"Yes, I think they're frankfurters," Ippei chips in unhelpfully.
"What flavor is the dog turd?"
I need an alternative to unspecified sausages. Rice. You can't go wrong with rice.
"What's the Mexican pilaf like? Has it got beans? Is it hot and spicy?"
"Errr…."
"It's rice," Ippei explains. "And Mexican."
And?
"And maybe a little bit spicy, but it's good."
"Can you put a dog turd on it?"
"Sure."
Mexican it is, then.
The Mexican chef tosses rice from the rice cooker into the pan, sprinkles chopped chilis on top and adds some home-spiced chili beans. In a few minutes of crazed flambé culinary magic, he has conjured up a healthy helping of home-cooked soul food to warm my stomach and my heart…
Ippei takes the plastic bag out of the microwave and cuts it open. The brown contents ooze onto a plate, which Ippei serves to me with his ever-cheery smile.
"Mexican pilaf," he reminds me. It tastes good, but I was so hungry even my toenails would have tasted good.
Nice but Tim
"Here's another Englishman," Jason exclaims. "It's Tim."
Why, so it is. Never met him before, and within minutes I'm thinking he's a complete twat. Might be marginally tolerable when he's not pissed. Drunk, he comes at me with all barrels blazing.
"Writer? I'm a writer, too."
"What do you write?"
"Oh, everything. You know…"
Er, nope; haven't got a clue. No matter, he'll keep talking.
"Do you know there are three ways from which to examine life? Love, justice and pity. These three define everything in life. Take David Beckham. His love of playing for England. The just decision to drop him. And the pity we have for him. You see; love, justice and pity. It defines everything."
God, I wish I'd met this guy before I'd had that Mexican pilaf. I sense vomit.
Tim's faux-yakuza shirt and wicker trilby are too close – not to each other, to me. Not only is he trying to ram his cod philosophy into my brain, he's also trying to ram it down my throat physically. He goes to hug a guy at the bar. Then he comes back to me and makes to try and hug me. I warn him to back off.
"Tell me more about your philosophy, Tim."
He rants. He's still too close. This guy is obviously stir crazy. Small towns can do that to you. Luckily, he goes to the bog and the girl at the bar smiles at me. I move. She's sitting with a guy who surfs and boxes. She works in Starbucks, and makes it sound like a career. Maybe in Okayama, it is. They're friendly, although Starbucks girl is constantly looking over my shoulder at the entrance as if she's seeking salvation from another patron as yet unarrived. Surf dude buys me a beer and asks if he can stay at my house in Chiba. I tell him my wife might not approve. He's a little too insistent. And I don't want to buy him a drink.
Jason distracts me by introducing Matt, another Englishman. He's a middle-aged northerner with unfashionable glasses. Wearing an England shirt. He reminds me of a mad, very highly strung former submariner I used to work with in Saudi Arabia. Too wound up. Too intense. But compared to Tim, he's almost a relief.
Time for a little relief of my own. Reality returns in the bog (luckily Tim's left it).
What the fucking hell am I doing in a craphole like this? Aussie Bar? Any Aussie Bar that calls itself Aussie Bar is desperately saying to all sane people: Stay the fuck away!
I get the fuck out.
Eureka! Erikas!
Sunday morning. My last full day in Okayama. Time for a latte to sustain me through the afternoon's work. It's shopping day in Japan. Lots of girls; not a lot of fashion. Still, it makes pleasant viewing. A girl in a floral dress comes in, gives me a smile. It's not the "Why the fuck are you looking at me" smile I usually get; it's more a "Hello, have a nice day" kind of smile. But a genuine one.
Hot chicks in hot-pants waltz by outside the window. My peripheral vision catches a floral dress. It's sitting next to me. It's Erika; she's a bank person. She's very attractive. She speaks English.
Metal-tipped tentacles spring from her ears, she slices open the top of my head and removes my brain.
Surprisingly, this isn't true. Erika is simply an angel sent by Bog in heaven to make me like Okayama. She lives half-an-hour out of town with her family and three dogs. She works in a bank. She likes Starbucks. She's visited England (London, Oxford, Windsor, Canterbury, Salisbury). She wants to speak English with native speakers. She's so pleasant I'm tempted to ask her what species she is.
She asks what I've done in Okayama. I tell her about the previous night's visit to the Aussie Bar.
"An Aussie bar. Maybe I should go there."
"NO NO NO NO NO NO NO NO NO NO!!!!!!!!!!!!!!" I suggest lightly.
Don't you know anywhere else, I ask.
Not surprisingly, she doesn't. She gets up at 5 a.m., gets to work before 8 a.m., finishes at 5:30 p.m., goes home, eats with her family, plays with her dogs and goes to sleep. In spite of the fact that she's met me, she has faith in foreigners. She wants to meet her prince, she says.
"Prince Fred of Chiba?" I inquire.
As much as an angel can do it, she gives me the "fuck off" look.
So many Japanese know so little about the places where they live. I wonder if I know that little about England. Well, certainly I do now, but I've been out of the country for 30 years. Nevertheless, I know things. When I go to a new town – in any country – I try to walk around it. Sometimes, I walk for hours and hours. I look for restaurants or bars, nooks and crannies, history and schoolgirls. All the things a tourist needs. All the things a resident needs to know. After a two-hour walk around Okayama, I seemed to know more than all the residents I met there. And that happens all the time. I still know dick, but I know more dick than most residents.
But Erika restores my faith in the people of Okayama. I can't judge the place on the few barflys I've met. She's wholesome and genuine, not stupid and outgoing in a very demure way. I'm not sure she'll find her prince in Okayama, but I know a few places she needn't bother looking in.
Molly volley
But she wasn't the only Erika sending out positives vibes from Okayama. Erika Araki is the captain of the Japan volleyball team and she hails from Okayama. On Saturday, she had been massive in helping Japan overcome the unbeaten Poles in the women's World Grand Prix.
Recovering from an injury, she had come off the bench and put on a hero's performance in front of her family, friends and fans. In fact, the whole team were awesome. They may not be giants on the international sports stage, but this particular group of players – coached by the tight-lipped, but, I suspect, very fucking good Masayoshi Manabe – is a wonderful advert for Japanese women, Japanese athletes and Japanese potential.
Hopefully, Okayama will be inspired by Erika and her teammates. Maybe all Okayama girls should be called Erika.
More likely, they'll just be called Okayama Girls.
Don't want to confuse the guys at Aussie Bar.
---
By Fred Varcoe
There's something distinctly odd about Japan's cultural relationship with South Korea. Of course, with around a million Koreans or people of Korean lineage living in Japan (the Koreans would claim around 120 million, but that's a different story), it should be no surprise that there is a strong link between the two. Head to the area between Shin Okubo/Hyakunin-cho and Kabukicho in Shinjuku Ward and you will be overwhelmed by Koreana. You can't move for Korean shops, Korean restaurants, Korean pop culture and Korean people.
When I lived in that area between 1987 and 1992, there was nothing there. And I mean nothing. At that time, Japanese culture was effectively banned in South Korea – no pop music, no films, nothing – and it seemed like it was a two-way affair. Japan, too, wasn't exactly going out of its way to understand the culture of its closest neighbour (despite the presence of plenty of Korean hostesses where I lived).
Following the easing of restrictions on Japanese culture (which was, of course, always available in the bootleg markets of Seoul and other cities), the two countries slowly opened up to each other. Japanese bands were already becoming popular in Korea, while "Winter Sonata" heralded a tsunami of dreadful dramas into Japan. Koreans have become big stars in Japan, while Japanese are free to exploit the smaller Korean market.
Japanese pop fans have realised that Korean bands and stars can out-sing and out-dance the domestic versions (or at least equal the many "Japanese" stars of Korean descent). Other Asian countries have followed suit. The Koreans are everywhere.
PSY is everywhere.
Who's he?
The pudgy 34-year-old has taken the world by storm with his quirky dance hit "Gangnam Style," racking up half a billion views on YouTube and soaring to the top of the charts in the U.K., the United States and a host of other countries. He's now a worldwide star.
A worldwide star that most people haven't heard of in Japan.
The anomaly doesn't make sense. Japan has been mainlining Korean culture for a decade now and doesn't seem to be able to kick the habit. However, a recent reawakening of the Dokdo/Takeshima island dispute has put the right-wing lunatics back on the street and TV stations have been put under pressure to lay off Korean culture. Even Fuji TV, known as a right-wing channel, was apparently "warned" to be less accommodating to Korean programs and to show more Japanese crap.
Politicians from both countries have fanned the flames in irresponsible ways. South Korean President Lee Myung-Bak's ill-advised trip to the islands sparked the latest round of insults and many Japanese have been happy to return the insults with their warped version of history. The Koreans are in possession of the islands and aren't going to give them up. The Japanese have a weak claim to them and aren't going to do anything to try and reclaim them, apart from fruitless gestures and ineffective legal measures. So the catcalling is just that.
But it may be that there is some discrimination against PSY for being the world's most visible Korean. Some people claim not to like "Gangnam Style," but not many. And it should be right up Japan's alley – great tune, good beat, stupid dance, funny and fun. What's not to like?
Some say PSY hasn't promoted the song in Japan. HELLO!!!?! Half a billion people have seen it on YouTube. It shouldn't need promoting. It's a worldwide phenomenon; you'd think that any media organisation must report on it. How could they ignore it? But I haven't seen it mentioned on Japanese TV (which, admittedly, I try to avoid) and when I polled 50 university students, only one of them knew it – or admitted to knowing it.
PSY reportedly was planning on heading to Japan at the end of September and even planning to do a special Japan version of his song ("Roppongi Style"), but the trip didn't come off. No reason has been given. One theory is that he was concentrating on doing a deal with Justin Bieber's management in the U.S. But one factor that may be preventing PSY from coming here is a drugs bust in South Korea in 2001. He was busted for smoking marijuana. Apparently, the usual drill for South Korean parents in such situations is to head down to the cop shop, fall to their knees and beg forgiveness for their child. PSY's parents apparently just shrugged and said, "Yep, that sounds like our son."
PSY also had trouble with his compulsory military service. According to Wikipedia:
"PSY served his mandatory military service as a technician in a venture firm from 2003 to 2005. After evidence came to light that revealed that PSY hadn't properly carried out his duty during his service as a technician, he was re-drafted to serve as a soldier in the ROK Army in August 2007. After being discharged in the summer of 2009, PSY said he had learned a lot through this experience. He said he also felt the weight of his responsibility to his wife and twin daughters, born two months before he headed off to the ROK Army boot camp."
PSY has been labelled "K-Pop" but he's not really part of the K-Pop setup. He's not pretty, he's not slim, he doesn't look like he's been surgically modified and he's not young – generally prerequisites for success in Japan (and Korea). But he does have talent and has been successful over the years. More to the point, he's funny and an iconoclast. He gets irony, which the Japanese haven't managed to invent yet. Maybe the Japanese just don't get him.
Apkujong (no) style
"Gangnam Style" parodies the young, rich and stupid who flash their brand names in the meat markets of Seoul. PSY should know; he's one of them. Well, he's a rich, Gangnam boy. Actually, Gangnam is a large area south of the Han River in Seoul. The ground zero for the rich dicks PSY parodies is Apkujong. Here's what I wrote about Apkujong for The Japan Times 10 years ago:
"Apkujong
Part of the Gangnam area, but merits an entry in its own right as it's the trendiest part of town. Or, to put it in the vernacular, it's full of tossers with more money than taste and posers with no taste at all. Apkujong is a little bit Ginza, a little bit Regent's Street, a little bit Beverly Hills. … While you will still get your hamburger joints (McDonald's, Kentucky, Hard Rock Cafe, etc.) and family restaurants (Bennigans, Thank God It's Friday), you can find several classy eating establishments, bars and cafes. Of course, there's nothing more irritating than seeing a bunch of clueless dorks with cash pretending they're better than everyone else, but if you can ignore the cream of South Korea's jerks, you can find some decent food in the area. Apkujong is BIG on fashion designers. You have been warned."

According to an AP report: " 'The song explores South Koreans' 'love-hate relationship with Gangnam,' said Baak Eun-seok, a pop music critic. The rest of South Korea sees Gangnam residents as everything PSY isn't, he said: good-looking because of plastic surgery, stylish because they can splurge on luxury goods, slim thanks to yoga and personal trainers.
'PSY looks like a country bumpkin. He's a far cry from the so-called Gangnam Style,' Baak said. 'He's parodying himself.' "
Well, good luck to him. PSY obviously can do without Japan. Japan, on the other hand, desperately needs someone like PSY who can recognize and parody the buffoonery in Japanese society and politics and entertainment. We don't need no Beat Takeshi, as Pink Floyd might have said. It's another brick in the wall that Japan loves to live behind.
The world's gain is Japan's loss.
English Translation of "Gangnam Style" (from the web):
Oppa is Gangnam style
Gangnam style
A girl who is warm and human during the day
A classy girl who know how to enjoy the freedom of a cup of coffee
A girl whose heart gets hotter when night comes
A girl with that kind of twist
I'm a guy
A guy who is as warm as you during the day
A guy who one-shots his coffee before it even cools down
A guy whose heart bursts when night comes
That kind of guy
Beautiful, loveable
Yes you, hey, yes you, hey
Beautiful, loveable
Yes you, hey, yes you, hey
Now let's go until the end
Oppa is Gangnam style, Gangnam style
Oppa is Gangnam style, Gangnam style
Oppa is Gangnam style
Eh, Sexy Lady, Oppa is Gangnam style
Eh, Sexy Lady oh oh oh oh
A girl who looks quiet but plays when she plays
A girl who puts her hair down when the right time comes
A girl who covers herself but is more sexy than a girl who bares it all
A sensible girl like that
I'm a guy
A guy who seems calm but plays when he plays
A guy who goes completely crazy when the right time comes
A guy who has bulging ideas rather than muscles
That kind of guy
Beautiful, loveable
Yes you, hey, yes you, hey
Beautiful, loveable
Yes you, hey, yes you, hey
Now let's go until the end
Oppa is Gangnam style, Gangnam style
Oppa is Gangnam style, Gangnam style
Oppa is Gangnam style
Eh, Sexy Lady, Oppa is Gangnam style
Eh, Sexy Lady oh oh oh oh
On top of the running man is the flying man, baby baby
I'm a man who knows a thing or two
On top of the running man is the flying man, baby baby
I'm a man who knows a thing or two
You know what I'm saying
Oppa is Gangnam style
Eh, Sexy Lady, Oppa is Gangnam style
Eh, Sexy Lady oh oh oh oh
---
Terry, Cole and a Bunch of Twats
By Fred Varcoe

Should John Terry be fired by Chelsea, as demanded by The Guardian?
Is John Terry guilty? Is Ashley Cole a liar? It's seems to be a popular thing to say. It seems to be a "right-on" thing to say. It seems to be the thing that writers in the U.K. want to say over and over again. U.K. journos love bandwagons; they make journos popular without the need to resort to actual thinking. Or, indeed, facts.
So what's happened? An "independent" panel appointed by the F.A. has found Terry guilty of making a racist statement, while at the same time saying he's not a racist.
The same panel has effectively called Ashley Cole a liar for "amending" ("evolving"?) his evidence.
An English court found Terry not guilty. The court requires evidence to prove the case. The F.A.'s inquiry does not require evidence that proves a case. The independent panel only has to think that Terry might have done what he was accused of to find him guilty of the offence. And that's what they did.
Variations on a cunt
The F.A. say Terry called Anton Ferdinand a "fucking black cunt … fucking knobhead," while Terry maintains that he said something along the lines of "Did you accuse me of calling you a 'fucking black cunt' … fucking knobhead."
Apparently Ferdinand had insulted Terry in relation to Terry's shagging of Wayne Bridge's wife. The F.A. hasn't taken any action against Ferdinand on this. Apparently this kind of emotional provocation is OK with them.
And apparently it would have been OK if Terry had just said "fucking cunt" or "fucking human cunt" or just "cunt." And it didn't matter that Ferdinand didn't hear the insult (apparently they were 19 meters apart at a very noisy ground).
The only thing that matters, apparently, is that three "independent" people think Terry used "black" as an insult. The ruling of the British court apparently doesn't matter; the British justice system is obviously inferior to the F.A.'s and the F.A.'s panel can evaluate evidence better than an English court. And the F.A.'s panel doesn't need to prove anything. Yes, that's the kind of justice we journalists need. It makes a much better story.
Anton Ferdinand accusing Terry of shagging his teammate's wife is not a story. Because the F.A. approve of that (OK, don't disapprove of it). Terry reacting on the spur of the moment under provocation should result in his career being destroyed, according to the Guardian. One assumes that the Guardian thinks that everyone who reacts in an insulting verbal manner when provoked should be sacked, even if there is no evidence that proves the verbal insult was actually a verbal insult.
Racism but not a racist
Nobody seems to think that Terry is a racist, but in the heat of intense competition and under severe provocation he may have used a race-based slur against his provoker. If he was guilty, it was most likely an emotional outburst with racial overtones rather than a racial outburst (which would by logical extension be aimed at all black people, including Terry's teammate and witness Ashley Cole). If this can be proved he should be punished on this basis, but who among us hasn't said hurtful words in anger at someone they like/love/respect/admire?
Now Cole is being dragged across the, er, coals because he was offended by the F.A. panel insinuating he was a liar. He called the F.A. a "bunch of twats." He's been punished for that (even though it hasn't been disproved and a three-man independent panel I convened believe it to be true). Specifically, he has been accused of enhancing his evidence to support Terry. Again, there's no proof (yet).
So, Terry has been punished for something that may have occurred but hasn't been proved. Cole has been punished for saying something that is true (and, let's face it, has been proved a thousand times) and may be punished again for something that may or may not have cleared Terry but which hasn't been proven.
For Terry, three judgments can be made here:
Terry used the phrase because he's a racist;
Terry used the phrase on the spur of the moment because Ferdinand insulted him;
Terry used the phrase as he claims, i.e., that he wanted to check what Ferdinand thought he said.
For the F.A.:
If it's 1, then the F.A. should throw the book at him. But not even the F.A.'s Spanish Inquisition believe it's 1.
If it's 2, as captain of Chelsea and as a supposed "role model," perhaps the punishment fits the crime (although when people cripple footballers with fouls, it's the same punishment and that doesn't fit the crime).
If it's 3, it's not really an issue.

For Terry:
If it's 1, he would be better off taking the current punishment (a four-game ban) and getting on with his life and career and continuing to hide his racism;
If it's 2, then Terry should man-up and say he used the phrase under extreme provocation and is sorry to all concerned and accept the punishment;
If it's 3, he has to fight because then the F.A. is in the wrong. Perhaps Terry should have the right to ask that the F.A. panel be examined for bringing about a wrongful judgment and punishing him on unproven grounds, so bringing the game into disrepute.

There are two more disturbing aspects to this case.
First, the F.A. has a double-jeopardy clause in its statutes that basically says the F.A. should follow the rulings of the courts. Obviously they haven't done that in this case. They have been very keen to find Terry guilty (apparently the conviction rate for the F.A. is the same as that of most police states), so they've ignored their own rules.
Secondly, Rio Ferdinand, Anton's brother, referred to Cole as a "choc ice," i.e., black on the outside, white on the inside. Surely this is a far more serious case of racism than that of Terry's. It would be like me calling the F.A. or Guardian readers "nigger lovers" for their actions. Yet Rio Ferdinand was only fined £45,000 and not banned.
Should this incident be as big as it's been blown up to be? It merits attention in the media, but it also deserves some perspective. I hope Terry comes out with a statement that clarifies everything. NO ONE has come out of this looking good and perhaps all the parties should reflect on that.
****
Addendum
I found this on the web and I post it without comment:
10 fatal flaws in the FA disciplinary panel's ruling on John Terry.
It runs to 63 pages, and is the FA's justification of its findings. But the panel's written ruling is a flawed document containing errors and inconsistencies.
1. It states as fact Terry and Ashley Cole met Anton Ferdinand "approximately one hour after the match ended." Documentary evidence in court proved the team had left by then.
2. There is reference to "Mr Ferdinand's wife." He is unmarried.
3. There is no adequate explanation of why Terry was charged under FA rules while Ferdinand, who admitted having breached them, wasn't.
4. The FA's burden of proof required reference to the seriousness of the accusations. It is perverse a matter deemed by the criminal justice system to require a "beyond reasonable doubt" yardstick, be judged upon using anything but that.
5. In reasoning on the FA's rule 6.18 (on the primacy of findings in previous tribunals), the panel goes on a meandering run across the face of the defence, attempting to pick-out the one thread-needle route by which they might reach their intended target. This is not only bad law, it is also an irrational conclusion setting a bizarre precedent.
6. The panel takes the view that because Ferdinand wasn't cross-examined during the FA hearing, all evidence was accepted unchallenged, a position ignoring cross-examination of Ferdinand in court.
7. The panel emphasises Terry's use of profanities to infer malice. These are the same words three professional footballers told the criminal court were a part of the general punctuation of speech within Premier League matches.
8. The panel's belief an innocent Terry would confront Ferdinand at full time, rather than applaud his own fans, misapprehends the character he has displayed over the last 14 years.
9. A section headed "the Barcelona evidence" compares Terry's initial reported denial of kneeing Alexis Sanchez in Camp Nou, with his latter admission. The panel takes certain inferences from this, despite having been unable to prove the existence of the initial denial. Indeed, having listened back to interviews from that night, I cannot find any evidence of an initial denial.
10. The panel sets stall by the "evolution" of Cole's evidence. It is normal for witness statements in criminal proceedings to evolve in this way. Changes are to be expected given Cole's evidence was based on notes of the FA's investigating team, and not a tape recording.
Taken together these flaws demonstrate that the FA panel was both slapdash and irrational in its approach to this case.
---