---
By FRED VARCOE
SINGAPORE, October 14, 2014 – Brazil striker Neymar gave a masterclass in finishing on Tuesday, scoring all four goals as Brazil beat Japan 4-0 in Singapore.
It was always going to be tough for Javier Aguirre's team against a strong Brazil lineup, but the Mexican manager fielded a very experimental team with only two regulars – striker Shinji Okazaki and goalkeeper Eiji Kawashima – in his lineup.
Early signs were good but on a simply dreadful pitch at Singapore's national stadium, it was never going to be easy and Japan weren't helped by some poor defending from Taishi Taguchi, who had a terrible game.
Neymar was into his stride early, claiming a penalty in the first few minutes and then forcing a foul as three Japanese defenders struggled to contain him. Neymar sent the free-kick against the post from 20 meters, delaying his inevitable appearance on the scoresheet.
That came soon enough. In the 21st minute, Neymar escaped the dozy defending of the Japanese backline, took the ball wide of Kawashima and drilled a shot into the roof of the net.
Japan had their chances but struggled to find the target. Kobayashi saw a neat 10-meter volley flash past the post in the 24th minute, a strong shot from Gaku Shibasaki flew over the bar six minutes later and Okazaki sent a glancing header wide five minutes after that.
A Junya Tanaka half-chance was desperately cleared by Brazil just before halftime, but defender Shiotani didn't have the composure to put the rebound on target, allowing Brazil to go into the break 1-0 ahead.
Aguirre brought on Keisuke Honda for largely anonymous Ryota Morioka at halftime, but the first action of the second half saw Brazil go 2-0 up.
More useless defending by Taguchi allowed Neymar a free run at goal and he calmly slid the ball past Kawashima.
Kawashima made up for that with a great save from Miranda, and Okazaki hit the post from a tight angle before Neymar proved he was human and missed an easy chance with just the goal to beat.
Substitutes Coutinho and Robinho also spurred good chances after being set up by Neymar and in the end Brazil's superstar had to do the hard work himself.
In the 77th minute, Kawashima made a fine save from a Kaka header and then turned away a shot by Coutinho, but the ball ran to Neymar who had an easy finish from close range for his hat trick.
But he wasn't finished. Brazil swept up the field in the 81st minute and Kaka lifted the ball to the back post for the unmarked Neymar to head in No. 4.
Japan fought a little harder in the dying minutes and Yoichiro Kakitani got a great head on Kosuke Ota's cross in the 89th minute only to see it tipped over by Brazil keeper Jefferson.
*******
The result was not much of a surprise but the gap between the major footballing powers and Japan remains big. Aguirre reckons his players play with passion, but who's he trying to kid? The likes of Shibasaki, Kakitani and Taguchi (not to mention Atsuto Uchida and Yuto Nagatomo) have all the passion of Japanese schoolboys.
Japan have an attitude problem, i.e., they don't have one. Aguirre needs to pump his players up, not blow smoke up their arse. Enough of the Zicos and Zaccheronis; Japan need a boss with anger. Get angry, Javier….
---
By FRED VARCOE
Niigata, Japan, October 10, 2014 – Japan managed to get their first win under new coach Javier Aguirre on Friday, but the 1-0 victory over Jamaica at Niigata's Big Swan Stadium was underwhelming at best, with the goal coming from an unfortunate defensive mishap.
To be fair to Aguirre, he's still looking for his best lineup and against Jamaica he mixed some of his more experienced stars – Shinji Kagawa, Keisuke Honda, Shinji Okazaki – with a bunch of relative newcomers: Tsukasa Shiotani, Masato Morishige, Gaku Shibasaki, Yoshinori Muto.
Obviously, this wasn't his best lineup. His formation was initially 4-3-3 with Hajime Hosogai as the sole holding midfielder but looked more like 3-5-2 in the second half. Not that it made a difference.
Honda danced around like Honda does, Kagawa was back to his Japan/Manchester United mindset, Shibasaki was largely ineffective in the playmaker's role and Muto couldn't cut it up front. Yuto Nagatomo and Gotoku Sakai put in some random crosses from the wings to no effect while Shusaku Nishikawa had virtually nothing to do in goal. Morishige was OK in the middle of defence while Shiotani didn't put a foot wrong and was the only Japan player to really shine on the day.
Jamaica tried their best and at least gave Japan a physical test, but in terms of technique and quality they are way down the totem pole. They would have done better to have tried to pressure Japan with Route 1 football rather than try to out-finesse their technically superior hosts. Sometimes primitive works.
So Japan weren't likely to lose the game, but they still struggled to win it.
Japan looked slightly more convincing early in the game. Muto had a good chance in the fourth minute but wanted too much time, while Honda forced Jamaica keeper Ryan Thompson into a great save from a smart free-kick in the sixth minute. Kagawa came up with a rasping 30-meter bomb on the quarter-hour mark but saw it flash past the post. But a minute later, Japan were in front.
Shibasaki got the ball on the right of the box and delivered a low ball in that Thompson could only parry against Nyron Nosworthy and the ball ran off his body into the net from a few meters out.
Jamaica made some good saving tackles in the game and Jermaine Taylor did brilliantly to stop Honda in the 23rd minute.
Sakai cut in well before unleashing a 25-meter shot in the 25th minute, but it went straight to the keeper and the full-back then set up Honda with a golden chance, but the AC Milan midfielder scooped the ball onto the bar as he tried to lift it over the keeper.
Okazaki had two attempts just before the break, including a reasonable overhead kick, but neither troubled the Jamaicans.
Jamaica brought on Michael Seaton and Darren Mattocks for the second half but still struggled to threaten the Japan goal.
Japan, meanwhile, continued to create chances and continued to waste them. Muto misfired on three occasions, while Okazaki tried hard but couldn't find the answer either.
After Kagawa sent a side-foot shot wide in the 65th minute, Wes Morgan saw a header loop onto the top of the net, while a 25-meter effort from Je-Vaughn Watson didn't get near the target. Seaton followed up with a nice run at goal but couldn't find an end product.
Another great tackle – this time by Morgan – prevented Kagawa from extending Japan's lead and Thompson did well to stop Yu Kobayashi's shot on the turn in the 72nd minute.
Nagatomo tried to gift Jamaica a goal in the 79th minute with a suicidal back pass to the unmarked Lawrence but the Jamaican wasn't sharp enough to take advantage of Nagatomo's gift and Morishige came in to clear the danger.
Three minutes after being booked for a foul on Hosogai, Watson escaped a red card after back-handing Shiotani in the face, but the ref didn't see it; most likely he'd fallen asleep, too.
There was little to celebrate for either side in this dance of under-achievement. Japan would do better losing to better opposition, as they probably will when they face Brazil in Singapore in four days' time.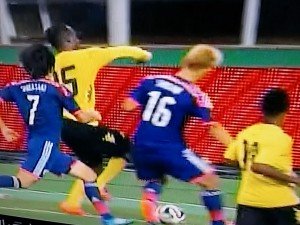 ---
By Fred Varcoe
I wrote this as a response to an article by Scott Snyder and Brad Glosserman on Council on Foreign Relations site Asia Unbound in which they explore problems between Japan and its neighbors, starting out with the issue of "national identity."
"A deeper, and more compelling, dimension of the split between Japan and the ROK as it is currently framed: contradictory conceptions of national identity that stand in the way of reconciliation steps necessary to improve relations."
 ************************
 The issue of identity is interesting. I would say your average Japanese has a very weak concept of self or identity, even less so when framed in historical terms. The average Japanese person has a poor grasp of history, if any grasp at all. The problem with Japan's current brand of loud nationalist politicians is that they have the stage and theirs is virtually the only voice out there. So when someone like Prime Minister Abe – as intellectually disadvantaged as a politician can be – says 'this' happened in history and we must resist Korea because of it, quite a few Japanese will believe what he is saying because they have no points of reference to refute such claims; because – intellectual capacity notwithstanding – he's prime minister; and because Japanese have a bad habit of believing anyone who's always on TV.
The Koreans, on the other hand, have a very powerful sense of self and identity, and a strong sense of history (or should that read 'injustice') and did so long before the Japanese annexed their country. The oft-portrayed image of Korea as merely a peasant country prior to (and even during) the 20th century does Koreans a disservice. They have trailed Japan in terms of modernisation in the 20th century, but they have always had a sense of self, a proud history and the ability to make progress.
If anything symbolizes Korea's relationship with Japan, it is probably the assassination of Queen Min:
"In the fall of 1895, Japanese ambassador to Korea Miura Goro formulated a plan to assassinate Queen Min, a plan that he named 'Operation Fox Hunt.' Early in the morning of October 8, 1895, a group of fifty Japanese and Korean assassins launched their assault on Gyeongbokgung Palace. They attacked the queen consort's sleeping quarters, dragging out the queen and three or four of her attendants. The assassins questioned the women to make sure that they had Queen Min, then slashed them with swords, stripped, and raped them. The Japanese displayed the queen's dead body to several other foreigners in the area, particularly the Russians, so that they knew their ally was dead, and then carried her body to the forest outside the palace walls. There, the assassins doused Queen Min's body with kerosene and burned it, scattering her ashes."
This was followed by annexation and domination as the Japanese forced Koreans to adopt Japanese names and only use the Japanese language as they tried to wipe out Korea's culture and enslave its population. I don't think a few new roads, railways and some fancy architecture will compensate for that. And that only ended 70 years ago. This is living memory.
Japan's sense of victimhood is based entirely on the fact that it lost the war and was humiliated. It's almost comical how they try to offset decades of rape and pillaging in Asia with the suffering its citizens endured in Hiroshima and Nagasaki. After visiting the Atomic Bomb Museum in Nagasaki (or was it laughingly called the 'Peace Museum' to go along with the Peace Park, etc.?), I wrote: "The only surprising thing about Nagasaki is that foreigners don't have 'guilty' stamped in their passports when they leave." As a result of Japan's distorted view of history, most Japanese think that Hiroshima and Nagasaki had nothing to do with what went before. They believe the atomic bombings happened because of American aggression, not because of Japan's insane rampage through Asia and their attack on Pearl Harbour.
"The main missing ingredient necessary to achieve the task of healing the divisions between South Korea and Japan is statesmanship."
Well, good luck with that one. You're not wrong. Japan is desperate for a leader and hasn't had one since … er … never. No matter what he believes personally, a Japanese statesman should not visit Yasukuni Shrine while in office. It doesn't make any political sense at all. Nationalist Japanese politicians use Yasukuni as a political booster, but for prime ministers, ministers and senior government officials it is self-defeating. It says to Korea, China, etc., 'You can't tell us what to do." It's more about trying to prove they have big penises, which they don't. Most Japanese politicians are emasculated by local politics, bureaucrats and inferior intellects. They don't have the intelligence or the freedom to explore their own thoughts – and that's probably a good thing.
Korean politicians are characterized by egotism, avarice and regionalism. Right-wing politicians are seen as true defenders of the nation; left-wingers, like the admirable Roh Moo Hyun, are labelled Communists. President Roh offered Korean society hope like no other politician had done before him. He was exploited by those around him and ended up killing himself…
The only person who can help to resolve the historical issues between Korea and Japan is the Emperor of Japan, but he is also constrained by politicians and the bureaucracy. He was invited to Korea for the opening of the 2002 World Cup, but it was never going to happen. So maybe resolution of this issue is also never going to happen.
A 'no-war statement' between Korea and Japan? That's not much of an idea and even if one did materialize it wouldn't be worth the paper it was written on.
"Japan should declare its support for the unification of the Korean Peninsula under the Seoul government, a statement that would end speculation about long-term intentions in Tokyo about the fate of the Peninsula."
Not sure that this wouldn't be construed as Japan interfering in the internal affairs of Korea. Of course, we're going off topic here, but Seoul is not the legitimate ruler of the entire Korean Peninsula.
The establishment of "a day for the two countries to jointly commemorate the history of the 20th century without being entrapped by it."
Another wishy-washy idea that isn't going to happen. August 15 celebrates liberation for the Korean Peninsula. They're not going to want to stop celebrating that and why would they? It would be like asking the United States to stop celebrating July 4 (Independence Day) because it offended the British.
For right-wing dingbats like Abe, August 15 is not about reflecting on the war and Japan's dead soldiers; it's more about keeping alive an idea that didn't quite pan out first time around but needs to be remembered for the next time.
In conclusion, the sadness of the conflict between Japan and South Korea is the division that moronic politicians are trying to make between two peoples who are quite comfortable with each other. The liberalisation of Japanese culture in Korea a decade ago and the reverse "Korea boom" in Japan made a huge people-to-people boost in the relationship. The "bottom-up approach" endorsed by Lee Chae-ryung makes sense if only evil politicians would just shut up and do their job of leading their citizens and countries toward a better future.
But I guess that's not going to happen either.
---
 By Fred Varcoe
It was nice to see the Foreign Correspondents' Club of Japan invite two right-wing politicians to the Club to express their views on the "comfort women." Tokyo-based politicians Yoshiko Matsuura and Tomoko Tsujimura demonstrated how the right think in Japan. Or, to put it another way, how the right is incapable of thought.
Matsuura and Tsujimura arrived to explain how they travelled to Glendale, Calif., to protest at a statue of a "comfort woman" being erected in a public park. The protest was accompanied by a letter – from the Japan Coalition of Legislators against Fabricated History, which was signed by hundreds of legislators – to Glendale Mayor Dave Weaver explaining why they were protesting.
Here are some excerpts and comments:
1.     "We are committed to instilling a fair-minded, accurate perception of history in our children."
A noble idea that has never been part of the Japanese mentality. Japan has consistently denied crimes committed in the past – as it denies truths that it doesn't want made public. They constantly denied Unit 731 existed in China until incontrovertible evidence emerged. Sweep everything under the carpet is their modus operandi. If we can't see it, it didn't exist. It is ironic that the many signees to the letter to Mayor Weaver portrayed the message of the statue as a "distorted view of history."
2.     "Japanese military authorities never forced Korean women to engage in prostitution. The comfort women were part of a legally sanctioned prostitution system, similar to others in existence throughout the world. They were handsomely remunerated; the word 'sex slaves' is an inaccurate description of the comfort women."
It is quite possible that real prostitutes from Japan, Korea and other countries sought to make money from Japanese soldiers. The right wing in Japan often cites an American Army report from Burma that suggested that some girls they came across were professionals (i.e., prostitutes) and making a good living. But no one outside Japan has suggested that this single report exonerated Japan over this issue or that this represented the true, broader picture of what was going on in Japanese military brothels.
3.     "Also engraved on the statue is the following: 'In memory of more than 200,000 Asian and Dutch women who were removed from their homes in Korea, China, Taiwan, Japan, the Philippines, Thailand, Vietnam, Malaysia, East Timor and Indonesia, to be coerced into sexual slavery by the Imperial Armed Forces of Japan between 1923 and 1945.' However, the Japanese military never abducted women or compelled them to serve as comfort women."
The speakers and other right-wingers in Japan claim that the Japanese military never abducted women. And they absolve themselves entirely by blaming recruitment on local agents. This is to some extent true, but there is little doubt that the agents were working on behalf of the military and the military was fully complicit in these crimes against humanity. Whatever the chain of command may have been, the women were conned into working for Japanese military brothels. If they had been independent prostitutes, as the Japanese imply, then they would have been free to go where they wanted and fuck who they wanted. But they were typical examples of human traffic, conned into believing they would be properly employed (e.g., in a factory) and reimbursed. The traffickers then imposed an artificial debt on them – typical of today's traffickers – which they had to work off by being raped by Japanese soldiers (up to 40 a day). The vast majority of these women were not free, certainly were not prostitutes and definitely didn't want to be where they were. They were enslaved and, let's be quite clear, they may have been recruited by "agents" (and there is evidence of military complicity) but they were slaves of the Japanese armed forces. Lack of freedom = slavery.
4.     "Japan is a nation whose culture places great value on women, as evidenced by the fact that works about romantic love created by women writers such as Murasaki Shikibu."
Anyone who has lived in Japan for any length of time knows that Japanese women are far from being equal with men:
From the Asahi Shimbun:
"October 26, 2013
Japan's ranking for female equality has fallen a further four places from 101st in 2012 to 105th this year, according to the newly released 2013 Global Gender Gap Report, ranking women's equality in 136 countries.
The ranking is Japan's lowest since the World Economic Forum started releasing its annual report in 2006.
The report, released on Oct. 25, said that Japan is failing to have women more involved in society despite their achieving a high education level."
Murasaki, of course, created the "Tale of Genji," a book that is revered in Japan but is basically about a paedophile rapist…
5.     "The Japanese Government-General of Korea prosecuted and punished deceitful brokers at every opportunity. But neither government nor military entities were involved in any way whatsoever in recruiting the comfort women."
Another copout. I don't think the Government-General of Korea did a very effective job of prosecuting and punishing deceitful brokers. More to the point, if this was the case, why were the women recruited not sent home if the Government-General of Korea was aware they'd been tricked into serving in the brothels? The inescapable fact is that the Japanese military wanted the women in the brothels, didn't care how they got there and would keep them there no matter what their recruitment involved.
 *************************
 I had a simple question for these women at the FCCJ. It was this:
"Were Koreans forced to work in the mines in Oita?"
They refused to answer the question. At first, they said they were only there to talk about comfort women before rambling on about how Koreans and Japanese were working together to win the war, which I thought showed they had a sense of humor before realising that they weren't joking.
But the question had a purpose. My Korean father-in-law was forced to work in the mines in Oita during the war. Mr. Lee was a noble man of unimpeachable integrity. His admission was not a trick to get money from Japanese companies or the Japanese government. In fact, it was a painful memory for him and one he only shared with his family a few years before he died.
So I wanted to know what Matsuura and Tsujimura thought about Korean workers in Kyushu. Were Koreans like Mr. Lee forced to work down the mine. Their reluctance to answer spoke volumes.
If they believed (and I'm sure they did) that Koreans were forced to work down the mines in Kyushu, then it shouldn't be a surprise if women were forced to work in brothels for the military. If they had said Koreans weren't forced to work down the mines, then they were calling my father-in-law a liar. I know he wasn't. So for me, their arguments have zero validity.
In fact, they were asked how many Koreans they had spoken to about this issue and the answer was none. Tsujimura, proudly related how she had spoken to her military grandfather about the war but failed to tell us how many Korean "prostitutes" he had slept with.
*************************
Tsujimura also tried to suggest that Japan had "civilised" and modernised Korea during its occupation, with one of her arguments being that the number of children being born rose dramatically during that time. Again, she failed to understand why.
My mother-in-law married my father-in-law at a young age, as did many other Korean women, at a time when North Korean agents were kidnapping residents of the South, especially young women. The young women of the South saw marriage as a form of protection against the marauding insurgents from the North, and it is likely that women in colonial times in Korea sought similar protection, as outlined in this quote:
"The Korean cult of female virginity which strictly enforced the norm of girls' premarital chastity, unwittingly served as an important contributing factor in rendering Korean unmarried women desirable recruits in the eyes of the Japanese authorities. Indeed, Aso Tetsuo (1910-1989), an army doctor, concluded in his report – written after his medical examinations of the women – that unmarried Korean women, rather than Japanese prostitutes, would make better 'gifts for the Emperor's warriors.' The indigenous sexual culture, with its emphasis on what I call 'virginal femininity,' thus helped render colonial Korea a prime source of young 'virgins' to satisfy the needs of the Japanese military comfort system." – from The Comfort Women: Sexual Violence and Postcolonial Memory in Korea and Japan by C. Sarah Soh.
So you can see, being an unmarried girl/woman in colonial Korea made you a target.
According to Soh's book, Japanese historian Yoshimi Yoshiaki found six official documents in the Library of the National Institute for Defense Studies that "clearly implicate the Japanese government in the establishment and maintenance of the military comfort system."
One of the disturbing aspects of the FCCJ press conference was how Matsuura and Tsujimura sought to turn the issue around as a Korean attack on Japanese. While the statue in Glendale was erected largely at the behest of Koreans, it represents the sex slaves of many nationalities. Tsujimura claimed that Japanese schoolchildren were being bullied by Korean kids in California and asserted that this amounted to "racial discrimination." Being a historical dunce, she is obviously unaware that the Japanese and Koreans are the same race. More to the point is the fact that Dutch, Australian and many Asian women were victims of the comfort women system. It is not just about Korea and Japan. Jan Ruff-O'Herne is one of those former sex slaves who has spoken out on the issue. Like others, she didn't want to revisit the past, but Japan's denials re. the Korean comfort women forced her to speak out 50 years later.
"First it was only the Korean women, and nobody took any notice because 'they were only Asian women'. But then when a European woman spoke out the world suddenly took notice," Mrs Ruff-O'Herne said.
 *************************
Another constant factor in this debate is the issue of apologies. In 1993, Chief Cabinet Secretary Yohei Kono issued a statement that many see as an apology by the government of Japan for the comfort women issue:
 "The Government of Japan has been conducting a study on the issue of wartime "comfort women" since December 1991. I wish to announce the findings as a result of that study.
   As a result of the study which indicates that comfort stations were operated in extensive areas for long periods, it is apparent that there existed a great number of comfort women. Comfort stations were operated in response to the request of the military authorities of the day. The then Japanese military was, directly or indirectly, involved in the establishment and management of the comfort stations and the transfer of comfort women. The recruitment of the comfort women was conducted mainly by private recruiters who acted in response to the request of the military. The Government study has revealed that in many cases they were recruited against their own will, through coaxing coercion, etc., and that, at times, administrative/military personnel directly took part in the recruitments. They lived in misery at comfort stations under a coercive atmosphere.
   As to the origin of those comfort women who were transferred to the war areas, excluding those from Japan, those from the Korean Peninsula accounted for a large part. The Korean Peninsula was under Japanese rule in those days, and their recruitment, transfer, control, etc., were conducted generally against their will, through coaxing, coercion, etc.
   Undeniably, this was an act, with the involvement of the military authorities of the day, that severely injured the honor and dignity of many women. The Government of Japan would like to take this opportunity once again to extend its sincere apologies and remorse to all those, irrespective of place of origin, who suffered immeasurable pain and incurable physical and psychological wounds as comfort women.
   It is incumbent upon us, the Government of Japan, to continue to consider seriously, while listening to the views of learned circles, how best we can express this sentiment.
   We shall face squarely the historical facts as described above instead of evading them, and take them to heart as lessons of history. We hereby reiterated our firm determination never to repeat the same mistake by forever engraving such issues in our memories through the study and teaching of history.
   As actions have been brought to court in Japan and interests have been shown in this issue outside Japan, the Government of Japan shall continue to pay full attention to this matter, including private researched related thereto."
A number of prime ministers and politicians have issued apologies, although they are often vaguely phrased to allow Japan to squirm out of direct responsibility.
The closest the Emperor came was this statement to South Korean Prime Minister Kim Dae Jung in 1996:
"There was a period when our nation brought to bear great sufferings upon the people of the Korean Peninsula. The deep sorrow that I feel over this will never be forgotten."
Under the premiership of idiotic revionist Shinzo Abe, there have been calls for Japan to amend the 1993 Kono statement, suggesting there may be doubt about the testimony of Korean women that the statement was based on. And here lies a problem, namely that Japanese politicians are inherently duplicitous and unreliable, so any statements they make are without value.
The only person who could put an end to the issue would be the Emperor, but he is constrained in his statements by the revisionist politicians and conservative bureaucrats that run Japan.
*************************
 Japan also points out that all issues concerning the war were resolved when the two countries normalized relations and "settled" all outstanding wartime issues. But this was an agreement between a right-wing Japanese government and the South Korean government of military dictator Park Chung-Hee. Park was a proud servant of the Japanese colonial rulers, joined the (Japanese) Manchukuo Army and, according to a report in the Hankyoreh newspaper, even signed an oath of allegiance to Japan in his own blood.
The 1965 treaty was a diplomatic agreement that rode roughshod over the human problems created by Japan's past. It was about business and money, not about human suffering or individuals. Technically, the two countries resolved their differences and established diplomatic relations, but this is a human issue and the humans involved are still suffering.
This was brought home to me several years ago when I visited England with my Japanese girlfriend. We arranged to visit my friend Debi at her parents' house. When Debi's father heard a Japanese was coming to his house – a cute, lovely and kind Japanese – he walked out and refused to return until the Japanese had gone. He had been a prisoner of war of the Japanese in Singapore and the mere thought of hearing Japanese or being in the same room as a Japanese filled him with painful memories.
For him, it was a reminder of the hate and violence he experienced at the hands of the Japanese. The comfort women are reminded of that hate every day not only through their own experiences, but also through the persistent attempts by Japan to deny that such atrocities ever took place. Would Matsuura and Tsujimura call Debi's father a liar, like they do my father-in-law?
Probably, especially if he was Korean…
*************************
Links:
Park Chung Hee signs oath to Japan in blood
Excerpt from book on comfort women (Google books)
Japan PM denies coercion re. comfort women
Australian 'comfort woman' slams Japan
Comfort women article by Suvendri Kikuchi
---
 By Fred Varcoe
The traditional image of your average embassy is that they are there to protect a country's citizens. My traditional image is that embassies are there to help move the country they represent closer to the country that hosts them.
The traditional image is complete rubbish, of course. Embassies exist to glorify the country they represent, to push the policies of the government in power and to drum up business and money. Citizens in trouble hamper these ambitions and are usually treated as dog shit on one's shoe.
Take the case of my friend R in Saudi Arabia. She unwisely got pregnant to a married man. OK, he wasn't a Saudi but a good stoning was still a possible outcome.
I know, she thought, I'll get the nice people at the British Embassy to help me.
Er, it's not our kind of business, the embassy people said, meaning, of course, that unless you help the UK make lots of money, you are of little use to us, so why should we be of use to you.
Luckily, R's father did make lots of money for the U.K., and after phoning the Foreign Office, the lackeys at the embassy in Jeddah got R home where she could have her baby.
The British Embassy describes its role like this:
"We develop and sustain the important and long-lasting relationship between the UK and Japan. This involves dealing with a wide range of political, commercial, security and economic questions of interest to the UK and Japan.
"The British Embassy in Tokyo, together with the British Consulate-General in Osaka, represents the UK government in Japan. Our two offices work together to support the full range of British interests in Japan: international cooperation in support of our values and working to reduce conflict; building Britain's prosperity through increased trade and investment in open markets; and supporting British nationals who visit and live in Japan through modern and efficient consular services."
The bit about helping British citizens seems to be a bit of an afterthought.
Recently, Britain's ambassador to Japan, Tim Hitchens, made it clear that British embassies are more concerned with commercial benefits than British citizens, with business and political relationships rather than human relationships.
In 2012, the British government introduced legislation that seriously penalises British citizens married to non-EU spouses. The Guardian quoted Home Secretary Teresa May as saying that British citizens can marry who they want, but "if they want to establish their family life in the UK, rather than overseas, then their spouse or partner must have a genuine attachment to the UK, be able to speak English, and integrate into our society, and they must not be a burden on the taxpayer. Families should be able to manage their own lives. If a British citizen or a person settled here cannot support their foreign spouse or partner they cannot expect the taxpayer to do it for them."
Part of that seems reasonable, but does it seem fair?
Know this; earn this
My wife is Korean. We carried our earlier married life entirely in Japanese. The new rules require a reasonable level of English. She might have that now, but if we wanted to go to the U.K. halfway through our 15-year marriage, her level of English would not have been high enough and she would have been rejected on those grounds.
She is also required to have knowledge of life in the U.K., including useless facts such as: How many members does a jury have in Scotland/ Which daughter of Henry VIII was a devout Catholic and persecuted Protestants?/ In which year was the National Trust founded by three volunteers? Where is Europe's longest dry ski slope situated?
My wife has been to the U.K. many times and even stayed with my mother for six weeks (when her English – but not her sanity – improved). She knows more about English life than someone who can remember that French people called Norman invaded in 1066 (and I only learned this week that the Normans were actually relocated Vikings). She can make shepherd's pie, Yorkshire pudding, porridge and marmalade. She understands her British husband and where he's from (although it often seems that he doesn't). She didn't need to speak English to understand this and she doesn't need to know how many inches there are in a yard to understand British culture.
You can't quantify a relationship!
Oh, but the British government is trying. Childless couples where one partner is British and the other non-EU must earn a minimum of £18,600 to be allowed to settle in the U.K. If you've got children, you have to earn more.
Auberon Waugh wrote in in Another Voice: "The whole language of politics is geared to treating anything as good which is conducive to general prosperity, anything as bad which is detrimental to it. Often one finds whole passages of political rhetoric … which assume that this pursuit of prosperity is the only and supreme Good."
Oscar Wilde's perspective is still definitive: "People nowadays know the price of everything and the value of nothing."
This is true of the British government and current ambassador to Tokyo Tim Hitchens doggedly follows the government line. Here's his meandering and totally unconvincing response to my question concerning the restrictive and illogical new immigration rules for spouses of British citizens (who, like my wife, can also be parents to British citizens):
"We live in democratic societies and therefore need to respond to the pressures from our electorate and there are two different strong pressures that are operating in the U.K. at the moment. One is the need to achieve growth to pull out faster from our economic difficulties and the other is the need to control legal immigration. Those are two very powerful messages that come from the electorate and therefore one has to get the balance right between those two. It'll mean that there are tough rules that are unpopular with certain people who want to come and which are very popular with the electorate and there are other moves which encourage businesses to work and to allow us to have more students coming, allowing a loosening of visa rules on Japanese businesses operating in the U.K. which some in the U.K. population may wish we didn't do because that seems a bit loose to them, but our judgement is that … [garbled] … we keep on having an open economy and encouraging investment in the UK. So those are the two competing forces. I don't think that this is an issue that is particular to Britain and I think this is exactly the same debate that you would get if you were trying to get into France, if you were trying to get into the United States or if you were trying to get into Japan, and it will always be one of the hardest issues to respond to because everyone will have a personal vested interest in the particulars of the policy and moving it back to the democratic legitimacy of the policy is a painful thing for that person to do. So that's my honest response at the general level but it won't satisfy you on a personal level because these are tough rules."
It won't satisfy me on a personal level because it's a rubbish answer and if it's really a policy, it's a rubbish policy.
It's the economy, stupid
First of all, the electorate in Britain is demanding an end to uncontrolled immigration. I'm sure the ambassador would say that immigration is controlled. Yes, there are rules, as we can see from the above, but they are haphazard at best.
Why do people want to control immigration? Is it about economics and jobs? Partly. British people see foreigners coming to Britain and finding jobs when the native population can't, but of course in part the incoming foreigners are plugging a gap in the job market (as well as undercutting the rates of their British competitors). So, there may be an economic argument for both allowing them in and keeping them out.
But is there an emotional one? The main problem with immigration is that many people don't want to live alongside people from other cultures. This is not universally true, but in Britain it's hard enough for a northerner to settle in the south, let alone alongside a Korean or a Pole or a Bangladeshi. The history of India demonstrates that. The Indians were united in their desire to get rid of the British and divided in their approach to independence, which resulted in three imperfect countries (invariably at each other's throats) instead of one. Point me to a country where immigration has benefitted the integrity and culture of a country (and no, the USA is not the right answer). Accepting outsiders is hard for most people. It's not impossible; just hard. The British government seems to think that if you earn £18,600 and know why Hastings is pertinent to British history, it's easy.
Quantify. Quantify. Hitchens went on to talk about the EU but to him – representative of the government of David Cameron (oh, and Corporal Clegg) – it again came back to how much the EU can do for Britain's business:
"The single market is the key reason that Japanese investors want to be in the UK and I personally find it difficult under any circumstance to imagine any government wanting to take the UK out of the single market."
The problem is not one of a single market; it's one of a single culture. The EU is trying to homogenize an amazingly diverse and culturally rich continent. As with politics, culture is largely local. Countries and their culture evolve from small communities. The EU's attempts at a form of affirmative action and the undermining of national interests is going to tear countries – and the continent – apart. David Cameron says if the Conservative get in with a clear majority at the next election, he will put forward a yes/no referendum on EU membership two years later. That's nearly four years away. He's trying to dodge the issue. Britain should have had a referendum way before this. You will remember that Britain did have a referendum on entering the forerunner to the EU, the Common Market. The people of Britain said yes – to joining a small economic community in Western Europe, not to a monolithic, federalised pseudo-state.
Citizens of 28 countries can walk into my country, find a job, claim benefits and even get housing from the state. Nobody asked the citizens of my country if this was a good idea. Meanwhile, my wife of 15 years, has to jump through hoops to stay in Britain and be a mother to my 5-year-old daughter if I choose to go back home. The British government seems to think that Britain needs operate at maximum commercial capacity to survive in the modern world. Britishness, it seems, is something it can sacrifice on the altar of commerce.
Why should I have fewer rights to a family life in the U.K. than a couple from France or Slovakia? Why should a non-EU criminal have the right to a family life but not me (see here for one example of many: http://tinyurl.com/6ajkvx5). I married a woman I loved, but she's not of sufficient commercial value to the country I was born in to allow her to reside there.
I wish I could rediscover the country I was born in, but it's not there anymore.
---
By Fred Varcoe
Oh crap! We've got the Olympics.
Joy of joys. Hang out the bunting. Let's have a street party. It's a good thing, right?
"It is immoral to invite the Olympic Games to Japan where the health environment cannot be secured." Well, the "loony" left would say that, wouldn't they? But the "loony lefty" who said this, according to David McNeill's report in The Independent, was former Japanese ambassador to Switzerland Mitsuhei Murata, who maintains that the situation at the Fukushima Daiichi nuclear power plant is too unstable to allow a major event such at the Olympics to be held 250 km away.
"A dark cloud looms over Tokyo's prospects due to an escalating crisis at a stricken nuclear power plant," a report from Xinhua's news agency stated before the bid. The joy of Tokyo's success hasn't blown the dark cloud away. "Faith in both TEPCO and the government's ability to disseminate timely and accurate information to the global community, as well as their ability to effectively and definitively contain the crisis, is diminishing," the report added. Nothing new there.
In the days following Tokyo's successful bid to host the 2020 Olympic Games, media reports in Japan reminded the people there of the cost of the March 11, 2011, earthquake, tsunami and nuclear disaster. Over 16,000 people died with more than 2,000 still missing, presumed dead. The dead won't benefit from the Olympics, while the living are still struggling to benefit from the world's generosity following the disaster.
Nearly 300,000 people in Iwate, Miyagi and Fukushima prefectures are still living in temporary housing. Some have homes in irradiated areas that they can never return to. They need new homes (they need new lives). Maybe there's a shortage of construction workers in Japan … There's obviously not a shortage of money. According to the Asahi Shimbun, around $1 billion of disaster-relief money was spent on unrelated projects, including the counting of sea turtles on beaches. At this rate, the Olympic athletes will have accommodation before the disaster-affected homeless of Tohoku.
Mr. Abe's alternative truth
Before the vote, the Fukushima crisis was seen as a potentially deciding factor for Tokyo's bid. As media reports outlined a new crisis with the water tanks at Fukushima, Prime Minister Shinzo Abe was despatched to the vote in Buenos Aires to allay the fears of those who might want to vote for Tokyo. But he wasn't convincing everyone on the home front.
As McNeill wrote in The Independent: "Many have expressed concerns that a litany of crises faced by the Japanese government makes it entirely unsuitable to host such a global event. Experts have blamed Japan's government and nuclear regulators for taking their eye off the Fukushima clean-up since Mr Abe returned to power late last year."
Others went even further. Reiji Yoshida wrote in The Japan Times: "One question that emerged among the public immediately after Tokyo won the right to host the 2020 Olympics was whether Prime Minister Shinzo Abe made an incorrect statement, or told an outright lie, about the contaminated water issue at the Fukushima No. 1 nuclear plant.
"During the Tokyo bid delegation's final presentation before the International Olympic Committee in Buenos Aires on Saturday, Abe stressed that the 'effects from the contaminated water have been perfectly blocked within the (artificial) bay' of the wrecked nuclear complex, and said 'the situation is under control.' …
"Tokyo Electric Power Co. admitted that a lot of water — and probably radioactive materials — was penetrating the fence and pouring into the wider ocean. … TEPCO, based on the findings, concluded that a maximum of 10 trillion becquerels of radioactive strontium-90 and a further 20 trillion becquerels of cesium-137 may have reached the ocean."
Tokyo, not Fukushima
But while the shadow of Fukushima hung over the vote, it has to be remembered that it was a vote on Tokyo – not Fukushima and not Japan. The Olympic Games are awarded to a city, not an area or a country, so the response from Tsunekazu Takeda, the head of Tokyo's Olympic bid, made more sense: "Radiation levels in Tokyo are still the same as in London, New York and Paris." Takeda told the media there was "nothing to worry about," a statement that residents of Japan and the surrounding areas might not agree with. Takeda wasn't lying. There was nothing to worry about at that moment, but there are worrying moments ahead, particularly from November when TEPCO starts to remove spent nuclear fuel rods from the damaged Fukushima power plant. It's a very risky operation that has some activists painting a doomsday scenario not just for Japan, but for the whole world. This story isn't over yet.
In reality, that's another story. Having won the Games, Tokyo can now, hopefully, detach itself from the worries of Fukushima. Winning the Games is a cause for celebration, for both Japan and Tokyo. It's been a long time coming.
Through the past darkly
Tokyo was initially awarded the Summer Olympic Games in 1940 but that was derailed by World War II. You might wonder what the International Olympic Committee was thinking awarding successive Games (1936 and 1940) to two belligerent, war-mongering states (Germany and Japan). Germany, despite being an economic and political basket case after World War I, was awarded the Games in 1931, just as Adolf Hitler and the Nazis were coming to power. The Nazis were already the second-largest political party in Germany and a year later they controlled the Reichstag. By the time Berlin hosted the Games, Hitler was chancellor of Germany and Nazism had spread its ugly shadow across the country.
Tokyo was awarded the Games in 1936, by which time it was already raping and pillaging its way across East Asia and had quit the League of Nations (the forerunner of the United Nations) the year before to facilitate its war-mongering ambitions. Yes, the IOC moves in mysterious ways.
The IOC remembered Tokyo in 1959 – and curiously forgot all about the Pacific War – when it awarded the city the 1964 Games (Tokyo also bid for the 1960 Games, which went to Rome). While some might have wanted to punish Japan for its conduct pre-1945 – notably China and the two Koreas, who were still alienated from Japan politically – the 1964 Olympics served as a symbolic reintegration of Japan into the civilised world. And Japan responded with a dynamic, high-tech Games and a completely restructured city. Tokyo, in fact, dazzled the world in 1964. North Korea boycotted and Japan's only hint of politicking came when the Olympic Flame was lit by runner Yoshinori Sakai who was born in Hiroshima the day the Americans dropped an atomic bomb on it.
Japan got another Olympics eight years later when Sapporo hosted the Winter Games, and they hosted the Winter Games again in 1998 in Nagano. With the 2020 Games, Japan will have hosted four Olympic Games, third overall and second-most – behind the United States – in the postwar era.
While the Winter Games carry a certain amount of prestige, Japan has been chasing the Summer Games for some time. Nagoya was stunned when it lost out to Seoul for the 1988 Olympic Games as the IOC once again opted to send the event to a country ruled by a murderous dictator (Chun Doo Hwan) just a year after he had slaughtered hundreds, maybe thousands, of civilians in the southern city of Kwangju. Of course, the selection of the host city has not always been untroubled by the exchange of favors and cash and Korea has some notable champions of bribery and corruption. A number of Olympic host cities have been accused of excessive "generosity" – including Nagano whose records were mysteriously burned when this topic came up. The IOC cleaned up its act by making changes to the bidding process, allowing its voters to concentrate on the merits of the bidding cities rather than the perks of their positions. Japan next put Osaka on the bidding list but it was doomed from the start after the IOC criticized the bid.
But 2016 was a different ball game. The Japan Olympic Committee decided to go with Tokyo rather than Fukuoka and Tokyo presented a beautiful bid for the Games. In fact, it earned the top rating from the IOC after the initial evaluation of the four bidding cities: Tokyo, Rio de Janeiro, Madrid and Chicago. Tokyo's advantages were clearly superior to those of its rivals (although in truth any city getting to the final stages of a bid should be able to stage a decent Games). Tokyo claimed 2016 would see "the most compact and efficient Olympic Games ever." But then the votes came in. Tokyo was third in the first two rounds of voting, meaning it was eliminated behind Rio and Madrid, which in turn was trumped by the allure of Rio de Janeiro and the attraction of seeing the Games in South America for the first time.
Live today, die tomorrow
So what changed for 2020? Bids from Rome, Baku and Doha were eliminated early on, leaving just three cities: Tokyo, Madrid and Istanbul. All three had been persistent triers. Madrid had actually won the first vote for 2016, beating Rio by two votes and Tokyo by six. All had attractions but suffered serious blows in the year before the vote. Madrid presented a very economical bid and was attractively placed globally; East Asia is often seen as an unreasonable time zone for broadcasts in the important couch-potato zones of Europe and the Americas, while Europe fits the bill perfectly timewise. Istanbul had the same momentum as Rio in that the Games could be held in a new area, a different (Muslim) culture and in a city that straddles Europe and Asia. Tokyo, meanwhile, had the money, the technology and the best layout for the Games. They all had something going for them.
But then the economic crisis really started to bite in Spain, which saw unemployment reach 25 percent. And some saw Madrid's $2 billion budget – half that of Tokyo's – as a sign of weakness. Olympic budgets invariable double, so there were also worries about whether or not Madrid would be able to keep up the payments with the national finances of Spain in such dire straits. Spain probably won on the affability stakes with Prince Felipe and Juan Antonio Samaranch Jr., the erudite son of the former head of the IOC. Despite its presentable facades, Madrid's bid was seen to be built on weak foundations and it lost a runoff in the first round after tying on 26 votes with Istanbul; Tokyo got 40 votes.
Istanbul's budget was a whopping $19 billion, which raised red flags all over the place. Imagine that doubling. Istanbul had the emotional momentum of Rio in that the IOC would like to spread its wings geographically and culturally, but the voters worried about its budget and the ability to deliver on infrastructure as everything would have to be new. That may not have proved fatal had the city not been hit by a wave of riots in the months leading up to the vote, not to mention the civil war in neighboring Syria.
Fukushima spread a cloud of doubt over Japan but unlike the crises in Spain and Turkey, the problem hadn't directly affected the bidding city. The mere possibility of disaster/Armageddon trumped the ongoing problems in Turkey and Spain. Abe's PR work really paid off. And so did Tokyo's.
The 2016 bid was seen as spectacular from a technological point of view and drab from an emotional one. Bids need an emotional tone and faces that click with the IOC delegates. The presentations by then-Prime Minister Yukio Hatoyama and then-Governor of Tokyo Shintaro Ishihara for the 2016 Games were limp at best. The message from Tokyo four years ago was effectively: We build good cars. Ishihara's successor as governor, Naoki Inose, wasn't a great improvement and made a couple of serious gaffes, but he didn't carry Ishihara's baggage. And, surprisingly, even Abe came over as a likeable chap in his presentation – made in much better English than Hatoyama's.
And, as Abe shut the door on the horror of Fukushima, Paralympic athlete Mami Sato, also speaking in understandable English, opened the door to the emotions of the earthquake and tsunami, recounting how she didn't know if her family in Miyagi were dead or alive for six days. Sato emphasized how Japanese athletes had embodied the Olympic spirit by countless visits to those affected by the disaster – and Tokyo's bid had its emotional connection. As well as a good speech in English by Olympic fencing medallist Yuki Ota, Tokyo got two delightful speeches in French from HIH Princess Takamado and former news presenter Christel Takigawa.
Tokyo also moved out of Japan to spread the word overseas. It launched its candidature file in London rather than in Tokyo and in doing so was able to ride the coattails of a country that was still buzzing from its own wildly successful Olympics. It also campaigned strongly on the domestic front after the IOC had taken a dim view of support figures for 2016 that showed less than half of Tokyo's population supporting a bid. Of course, half of 35 million is still rather a lot, but the perception was negative and had to be put right. One of the major plus points was the post-London Olympics parade of medallists through Ginza, which attracted half a million people – an astonishing number – and put the feel-good factor back into Tokyo. An IOC poll saw public support at 70 percent at the beginning of this year and a government poll saw that figure rise to 92 percent 10 days before the vote.
Living up to the past
So what does it mean for Tokyo and Japan?
From a sporting point of view, the Olympics represent the ultimate goal for many athletes. From an individual point of view, they aim for the Olympics and a home Olympics focuses that aim and intensifies the purpose. The host country usually increases the number of athletes and the number of medals. In 2008, for example, China fielded 639 athletes at the Beijing Olympics, earning 100 medals and 51 golds. Four years earlier, it had fielded 384 athletes, earning 63 medals and 32 golds. In 2012, Britain fielded 541 athletes for 65 medals and 29 golds, whereas in 2008, it had won 19 golds, 47 medals overall with 313 athletes.
The 1964 Games saw the city of Tokyo transformed. It was transforming itself anyway, but the Olympics provided the impetus to get things done and Tokyo placed priority on improving infrastructure that would assist the Games, including "road, harbour, waterworks development on a considerable scale over a significant area of the city and its environs." Tokyo venues such as the National Stadium (soon to be rebuilt), Komazawa Sports Park and Yoyogi Gymnasium are still being used today.
If Tokyo wants to live up to its promises in 2020, it need look no further than 1964. Avery Brundage, the President of the IOC in 1964, was fulsome in his praise of Tokyo and the Japanese:
"No country has ever been so thoroughly converted to the Olympic movement. … Every operation had been rehearsed repeatedly until it moved smoothly, effortlessly and with precision. Every difficulty had been anticipated and the result was as near perfection as possible. Even the most callous journalists were impressed, to the extent that one veteran reporter named them the 'Happy' Games. This common interest served to submerge political, economic and social differences and to provide an objective shared by all the people of Japan. In Tokyo everyone united to clean, brighten and improve the city and a vast program of public works involving hundreds of millions of dollars was adopted. It remains a much more beautiful and efficient municipality with the handsome sport facilities erected for the Games as permanent civic assets. … The success of this enterprise provided a tremendous stimulus to the morale of the entire country. Japan has demonstrated its capacity to all the world through bringing this greatest of all international spectacles to Asia for the first time and staging it with such unsurpassed precision and distinction. It is certainly the Number One Olympic Nation today."
As London showed in 2012, the Games can lift a whole country in many ways. According to a British government report published in July, the 2012 Olympic Games provided a £9.9 billion boost to the economy; saw 1.4 million more people playing sport at least once a week than in 2005 when the bid was won; brought £4 billion of investment into London; helped 70,000 workless Londoners into Games-related employment; and projected that the total benefit to the U.K. from hosting London 2012 could reach up to £41 billion by 2020.
Tokyo has just taken the first step. It has a lot of promises to live up to, but it also has a past to learn from. Perhaps it will lead to regeneration on a broader scale. As Olympic host and capital city, it has a responsibility to do things right.
What could possibly go wrong?
---
By Fred Varcoe
I went to my first funeral when I was 38. It was my father's. I hadn't had to deal with death up to that point – and I haven't had to deal with it much since then.
I've paid my respects a couple of times in Japan and South Korea, but I wasn't particularly close to the people involved, or even knew them at all in some cases. Death was distant; it was abstract. I never felt involved. My recent trip to South Korea to take part in my father-in-law's funeral brought death back into my life.
There have been a few deaths sort of near me – all my grandparents. But they, too, were distant. I only met my grandparents once a year at best; I didn't know them so well. I was 8 years old when my mother's mother died (at 58) and vaguely remember going to say goodbye to her as she lay dying at home. Her husband died 10 years later, slightly out of his mind, while my father's mother succumbed to cancer around the same time. I hadn't seen either of them for ages. They lived far away, I was a teen at boarding school and nobody in my family really seemed to make an effort to meet up.
But at 23, with one grandparent left, I made a trek across London to see my remaining grandfather. He was 86, and we went down the pub for some gin and fags. He was good company, alert, funny and as down-to-earth as most Cockneys. He drank pink gin – strong pink gin – and we talked about trivial things. He died a few weeks later. I don't know how; I don't know what of. I like to think he had a pink gin in one hand and a Woodbine in the other. But having seen him so recently, I felt connected. I wish I had been more connected to all my grandparents. They were a diverse bunch and had so much to offer.
But it was too late.
The day the music died
Death continued to pass me by. Working in Saudi Arabia in the early '80s, a couple of colleagues died young: one through an ill-judged experiment with nitrous-oxide, the other – a rampant homosexual –from a mysterious disease. Life went on.
One death while I was there did affect me. In December 1980, I bought the Arab News in downtown Taif and took it home. As I entered my bedroom, I glanced at the front page; John Lennon had been assassinated. I was stunned. Perhaps I was more shocked by the fact that I took it personally. It sounds trite, but it was like a part of me had died that day. But it was true. I had grown up with The Beatles. I had bought Please Please Me at the age of 7. I even went to see the movie Help! with my paternal grandmother, another down-to-earth Londoner. The Beatles wrote the soundtrack to so many young lives. We were all emotionally involved.
Fast-forward 22 years to another musician who helped write the soundtrack to my life. Warren was an acquaintance who became a great friend. Like his hero Ray Davies of The Kinks, Warren wrote stories into music – great English pop songs. I used to visit him in Holland when he lived there in the early '80s. Holland buzzed, and we had a lot of fun. So much fun, it dominated our conversations for the next 20 years. Warren had two Top 10 hits in the U.K. with Bucks Fizz and five minor successes in Japan (I was his agent). He was always first on my list of people to see when I went to the U.K., but with limited time on visits home, I didn't always see him. At 55, he went to sleep one night and didn't wake up.
It was like being robbed of my memories. Talking about our rock 'n' roll days in Holland kept those days alive, kept us young, kept us alive. Is this what happens? Your friends die and bits of your life just drop off with them? We hadn't finished reminiscing; that part of our lives still felt so close. Is it now?
A week to the day after Warren's death, I became a father. Suddenly, life had new meaning. My life. But now I realize the enormity of what I've done and nothing horrifies me more than to think that I might not be around to help my daughter grow up. I hope I'm wrong, but I don't expect to live to an old age.
My Korean father-in-law didn't have that problem. One of his daughters died young in a car accident, but he had six reserves plus a son. There was a lot of life in the Lee family. A week after his death, there still is.
But saying goodbye to this man – as dignified and well-grounded as my paternal grandfather, who died at exactly the same age, 86 – was a mixture of the grand and the grotesque. And for the first time since I attended my father's funeral, I was a participant.
With my father's death, the remoteness was still there. My father died while I was in Japan and I'd been living overseas for 14 years. It took me two days to get home. I didn't have to deal with the everyday stuff of death. I got home and the funeral was arranged. I saw no dead body. I didn't feel involved. My mother, brother and sister had to deal with everything; I just had to fly home. On the morning of the funeral, I played golf. Did I appear cynical? I hope not. Golf clears the head and my head needed clearing. I was hiding behind an emotional wall. It wasn't going to get to me yet. To get to the crematorium, I drove my rental car. I didn't want to be part of a procession. I was almost in denial as to all of this being real.
But then we were in the crematorium chapel with my father's coffin on the rollers ready for his final journey to the incinerator. It all came home to me. This was my life. Death was suddenly real. The priest was talking about my father. After a short service, a curtain shielded the coffin as it rolled toward the burners. A door closed. Goodbye, Dad.
And then we were out in the sunshine, drying our tears, saying goodbye to the living, driving home. What do we do now?
Party, of course. Good food, a lot of Champagne and we were living life again. Perhaps it was too easy, too quick. The Koreans have to work a lot harder for their closure.
The long goodbye
My wife's father died at around 4 a.m. on a Monday morning. I managed to get my wife on a plane to Busan at 2 p.m. on the same day and she was in Daegu by 6. By then, her family were several hours into the ceremonials. They had delayed dressing the body – in front of the family – until she arrived. I'm not sorry I missed it. Curiously, the first things her parents had shown me the first time I went to their house were the clothes they would be dressed in after they were dead. I was under the impression that I would have to help dress the body. This wasn't the case, partly because I was traveling a day behind my wife, but mainly because the mortuary staff did that. The wife told me it was done very well and with great class. "My father looked very dignified," she said.
Due to work obligations, I arrived 24 hours behind my wife. I figured that by the time I arrived in the early evening the whole family would soon out of mourning mode and into the food and alcohol.
Wrong!
I was hustled into the mourning area in the basement of a small hospital to pay my respects before the altar that had been set up. You could barely move for flowers.
I was soon on my knees.
"You have to do two and a half bows," my brother-in-law informed me.
Well, what's that? OK, two on my knees, head touching the floor; I get that. But a half bow? Do I get half up and get down again? Or do I get all the way up and bow halfway. I'll opt for B, Bob. Eerrrck! Wrong! But no big deal.
I was handed a black suit to replace the black suit I was wearing ("It'll get dirty," I was told.) and given an oversized white shirt and black tie, identical to the suits and shirts and ties worn by the other five sons-in-law and my wife's brother. I had to wear a strange tall yellow hat and armband made of linen, which had a single black line running around it. The brother's had two black lines. South Korea is a Confucianist country; everyone has their rank. I felt like the corporal of death.
In the small altar area, there were seven cushions lined up on each side. Not quite seven brides for seven brothers; there were seven brides for the lone brother and six brothers-in-law. Position was determined by age. I was married to daughter No. 4, so I was fifth in line (the brother was first, of course). The women were lined up in similar order opposite their husbands.
The altar had a smallish picture of the deceased and lots of food and flowers. The primary floral tribute had been provided by the chairman of one of South Korea's chaebols, an impressive tribute and one of significance. Big wheels are turning.
Mourners flooded in. Mourners were not only those who knew the deceased, but also those connected to the family, so colleagues of the son, sons-in-law and daughters. Some came in groups; others individually. As they entered the mourning area, the family lining each wall would chant "Igo, igo, igo" non-stop, a call to the spirit of the deceased. The chief mourner in the visiting group would make an offering of alcohol and light a stick of incense, followed by the requisite two and a half bows. Then, all the mourners in that group would turn to face the male relatives and both sides would fall to their knees again in a humble bow. Then, they would make to get up, but invariably fall to one knee to offer a message of condolence after being introduced by whoever they knew among the family. They would then put an envelope containing money in a box ($55,000 passed through that box over the three days!). Some would then leave; others would eat and drink at the restaurant adjoining the altar area. They were soon replaced by other mourners. In fact, this had been going on for well over 30 hours by the time I arrived. Nobody had gone home. On the day I arrived, the procession of mourners didn't finish until after midnight. At 1 a.m., the family ate. Most grabbed two or three hours sleep on the floor. The marathon was not over yet.
The first ceremony of the final day came at 5:45 a.m. The ceremonies were now getting more heart-wrenching for the family. Another ceremony was held in front of the coffin before it was loaded into the massive black Cadillac hearse for a journey to the old man's home. Another ceremony was held in the yard there with one of the elders from the village leading the prayers.
Up to this point, things had been moving and dignified; the old man was being sent off with love and affection.
Then we got to the crematorium.
The coffin was unloaded into what appeared to be the tradesman's entrance. The family was directed to a waiting room. People could watch TV. Soon, we were hustled into a glass-walled viewing room. Beyond the window was the coffin. Beyond the coffin was a line of a dozen doors to what looked like industrial furnaces. It was horribly stark.
A door opened and the body was shoved through. It was quick, sudden and shocking. Family members yelped in shock. The furnace door closed and everybody was hustled out to wait.
We waited for over an hour under a hot midday sun. We did lunch. We drank beer. We waited some more.
I went back to the waiting room as it was cooler there. I noticed a bank of TV monitors, each one placed above a photo of those being "processed." You could watch the furnace doors open and the ashes being wheeled out on a trolley. The picture was fuzzy, thank God.
But then the monitor told us furnace No. 4 was ready and we were hustled back into the glass-walled viewing room. The door opened and a tray of bones was dragged out. The women screamed for their father. Everyone looked on in disbelief.
Originally, the family thought they would stick with tradition and bury the old man on a hill near their house. But South Korea is losing its cultural markers. Modern times require quick and easy solutions to life – and death. The dead don't need to take up space on a hill.
One or two bones were still identifiable. Two crematorium staff swept everything into a box and brought it over to where the family were watching in a state of shock. I stood well back, holding my daughter for comfort. Everyone was distraught. This was no way to create a final memory of a man revered by his family. This was processing, not healing, not loving, not even remembering. Who'd want to remember this?
The bones were crammed into an urn and handed over. Thanks for your patronage; have a nice day. Er, recommend us to your friends…
The family drove back past the old man's house and village and up into the hills to a Buddhist temple where his ashes would be enshrined and where the family could find spiritual salvation. Religions require belief and everyone wanted to believe that father was on a journey, and his journey would end peacefully in a sacred place. It was sunny and 33 C; no one had any energy left. A Buddhist priest gave the family the spiritual sustenance they sought. We said our last prayers for the old man's final journey, bowed to the ground one more time to say goodbye and headed home.
 ****
Later that night, a magpie – a symbol of good luck in Korea – flew onto a wall of the house. He gave the impression he belonged there and looked paternally at the family members clustered behind an open window. He flew into the house and perched high up in the living room. Nobody said anything, but everyone thought the same thing. How could you think otherwise?
After refusing to leave, the fearless widow Lee grabbed the bird and ushered it out. It flew away into the night. She watched it go, saying a final, silent farewell.
Sorry, you don't live here anymore.
****
---
Vote for me!
(This was an experimental column offered to The Japan Times [can't think why they didn't take it] and based on the "Dear Bill" column from Private Eye. Originally written in 2001.)
****************************************************************************************
Dear Frank,
I start with a question: Is new Philippines President Gloria Arroyo the first head of state that you'd be willing to shag?
She's awfully close. It might take a few beers, but give the Filipinos credit – they've got a good-looking girl in charge.
mmmmm….
Of course, it doesn't really matter who's in charge over there as the country is such a mess. Up until now, the old maxim "you
get the leader you deserve" appears to be true over there.
That's why I can't understand why they were so keen to get rid Of "Elvis" Estrada. Just because he was a fat, greasy-haired, philandering gambler with his hand in the till, it doesn't mean to say he doesn't deserve to be president of the Philippines. Seems to be the perfect sort of chap to me. I can't understand why countries like the Philippines don't have a law that makes embezzlement legal – perhaps up to a limit of $10 million. They're going to do it anyway, so the government might as well facilitate it.
Anyway, the old maxim has never let Japan down. Look at what we've got now: Yasuhiro Mori.
If he was a fat, greasy-haired, philandering Elvis impersonator things might not be so bad.
All right, so he's a bit on the bulky side, but he has none of the endearing attributes of the Filipino "Elvis."
He is, basically, a complete twat.
Perhaps the maxim can be reversed ("The leader gets the people he deserves"), but I know not all the Japanese people are as mind-bogglingly moronic as their leaders.
Of course, most of the leaders are.
In the 14 years I've been here, Japan has been run by a string of gutless incompetents with the all moral rectitude of a paedophilic priest.
Most of the leaders have come from the Liberal-Democratic Party, which has maintained power for most of the post-War years. To be a Liberal-Democratic politician you have to be:
a) rich;
b) stupid.
Of course, politicians belonging to the Liberal Democratic Party (I thought the name was a joke until I remembered there is no irony in Japan) have a host of other attributes, including bribe taking, bribe giving, shagging geisha girls (and paying them a monthly retainer), lying, cronyism, bribery, lying, egotism, lying and lying.
Why, you ask, do the voters put up with this?
Up until now, it's been because they think that the Socialists would upset the gravy train that Japan hoped to ride into the 21st Century.
Ah, I hear you say, but Japan's economy is a complete mess, only a few steps away from that of the Philippines, but much, much deeper in debt.
That's true, but the succession of LDP governments in the '90s used the national piggy bank to create the impression that everything was OK.
More recently, they started borrowing – a lot – sending Japan spiralling into debt and almost certain financial ruin a few years down the road.
Mark my words, Japan is going to be hit by a massive financial collapse, followed by – or, perhaps, preceded by – social collapse.
No, forget the maxim; Japan does not deserve such a fate, but the voters have to start realizing that they've been conned by their politicians.
The government will only do something about it when it's too late (and they'll do too little then). At that time, the voters will turn against them, but that will be too late, too.
I wish Estrada would come over here and be prime minister; you know exactly where you stand with him. You can budget in a few million dollars for him to rent a few mistresses and gamble away, knowing that the rest will be untouched.
Unfortunately, like the Philippines, Japan has little left to gamble with.
Billy.
P.S. What about that Makiko Tanaka … she's a spunky woman, don't you think? Might be alright at 4 a.m., pissed out of your brains.
---
Would you leave?
Surely that should be "Running Scared"? Well, it was originally until some wiseguy in Tokyo actually used the phrase to describe my flight from my home.
Why wouldn't I be scared?
A 9.0 earthquake, perhaps?

Make that a 9.0 earthquake 400 km away. Only a few things fell down in my house; it didn't do any damage. Physically. Twenty-five minutes after that quake, another one hit. It felt slightly stronger, but wasn't so different. The second one was 7.9 on the Richter scale – but only 120 km away. In earthquake terms, that's local. Scary enough for you?
That's two huge quakes, but listen up: It wasn't "The Big One."
Tokyo got hit hard, but stood up to the quake pretty well. The northeast of the country has been pole-axed. There's disruption everywhere, but not largely due to the earthquake itself. The BIG quake.
But the BIG quake wasn't "The Big One."
Tokyo's last "Big One" occurred in 1923. The magnitude: 7.9, the same as the one that hit up the coast from me. It was at a depth of 23 km – not ultra-shallow, but not deep (the one near me was 39 km under the sea). Mainstream media almost never report the depth of an earthquake (although CNN's meteorologists has been trying hard to improve, perhaps to compensate for their crap news reporting), but depth is crucial to what happens on the surface. The nature of the plate and fault line are also important. Some areas move more than others. And there are different kinds of motion.
The 1923 quake did not hit under Tokyo; it was in Sagami Bay, about 50 km away. But it was a long quake (an amazing 4-10 minutes according to Wikipedia), near the surface and produced a lot of ground movement. But it was not under Tokyo.
But both Tokyo and my house are close to major fault lines. The fault line that prompted the 9.0 quake on March 11 runs down the entire east coast of Japan, roughly from the northeast. Another fault line then cuts in from that about 75 km south of my house and juts into the bay south of Yokohama and Tokyo and then breaks south from Mt. Fuji. This fault line caused the 1923 quake and another large quake in 1703 (the Genroku Earthquake) that resulted in a massive tsunami in the area where I live (the Boso Peninsula) and, apparently, prompted an eruption from Mt. Fuji (still listed as an active volcano).
But the next "Big One" in Japan is supposed to be a Tokai quake that will hit the Shizuoka area roughly 150 km southwest of Tokyo. Experts tell us it's on the way, based on previous earthquake cycles. Of course, in the meantime, we've had a number of large and deadly quakes, including Kobe in 1995 (a mere 6.8 on the Richter scale, but at only 16 km depth – 6,500 dead; Niigata 2005 (6.9 on the Richter scale, also at 16 km depth – 39 dead); Niigata 2007 (6.6 at 10 km – 11 dead). The Tokai quake is expected to be 8-8.5 on the Richter scale in an area where the plate is near the surface. Estimate deaths: 10,000 (that will only be revised upward after the recent quake). A big Tokyo earthquake or a Tokai earthquake will cause more disruption and damage (at least from the quake) than the recent 9.0 quake. Judging by what's happened in the last few weeks, it will be devastating to Japan's economy. The human cost will also be horrendous.
According to The Japan Times of March 20, 2003:
"A Tokai quake centered on central or western Shizuoka Prefecture or Suruga Bay would force the evacuation of some 2 million people and disrupt the water, electricity and other infrastructure of 5 million others, the panel said. … A massive Tokai quake could also trigger tsunami of up to 10 meters striking coastal regions stretching from the Boso Peninsula in Chiba Prefecture to Mie and Wakayama prefectures on the Kii Peninsula."
Tokyo's last big earthquake was in 1923, 88 years ago. Before that, came the Ansei-Edo quakes in 1854-55. That's quakes. Not one, but three over a period of less than two years. There's always more out there. Yes, I'm scared.
TSUNAMI
And then there are tsunamis. We live 100 meters from the sea at an elevation of roughly 5 meters. I have had unsettling dreams about tsunami since I moved here. I know the danger. I know we have to get out and away from the sea when a quake hits. I'd always had a plan in mind. Assuming that I could get out in my car and the roads weren't blocked, I figured I could get to my friend Mike's clifftop house in a couple of minutes. Plan B (if the roads are blocked, a likely scenario) is to walk up the little road in front of my neighbour's house and climb the hill above it (the sea's on the other side). I can't quite figure out how high the mountain is. I've always based my escape plan on the basis that a 10-meter wave would be heading our way. This is very possible.
My next-door neighbour reminds me that the Tohoku quake and tsunami was a "once in a thousand years event." Not quite true. The media have reported it that way, but the truth is that it was a "once in a thousand years event" in that location. There's a lot of locations… I live at a different location; the clock is still ticking.
The urgency I have about evacuating is the result of knowing about another earthquake and tsunami that happened in Japan in 1993, and which, curiously, has been largely forgotten, even now. A 7.8 earthquake struck off Okushiri Island in northern Japan on July 12, 1993 (more information here: www.drgeorgepc.com/Tsunami1993JAPANOkushiri.html).
Waves of at least 10 meters (and up to 20 meters) hit the island within two minutes at its nearest point. Villages were wiped out. But not everyone was killed. Although 269 people lost their lives, another destructive earthquake 10 years earlier (no "once-in-a-thousand-years" event here) taught people that they had to run to higher ground very, very fast. I'm hoping the hill near my house is high enough for refuge, but I don't know how high it is, or even if I can get to the top with a wife and 3-year-old child. It could be pitch black and in the summer there are poisonous snakes and other wildlife in the hills. And what if the waves were 40 meters high. Apparently, it's happened before. Of course, if I thought it would happen to me, I wouldn't have bought a house so close to the sea. You run a risk. There might not be another major quake in this area for 500-600 years. There might be one tomorrow.
FALLOUT
Three days after the March 11 quake, a friend called me. He had spoken to a couple of credible nuclear engineers. They advised him to get out of town. He advised me to escape immediately. Others were urging caution. A number of friends reminded me that no official spokespeople could be trusted, least of all the buffoons at TEPCO. The government couldn't afford to have 30 million people in the Tokyo area panicking.
I had this vague belief that my toxic lifestyle over the years would grant me immunity from any poisons heading my way, but that wouldn't apply to my daughter, who was a week away from her third birthday. Cancers start easily in children hit by radioactivity. But there were other reasons why getting away would be good.
For a start, aftershocks. I actually had some work to do when I got back to Japan on March 10. In fact, I had a lot of things to catch up on. There were around 150 recorded aftershocks on March 12; that's around six an hour. They just kept coming. I would sit at my desk, the cabinet would rattle and I'd be out the door like a shot. And not just six times an hour. There were aftershocks that shook my house that didn't make the earthquake list. Just little jolts. Little jolts that would wake me up and get my heartbeat racing. I couldn't concentrate in such conditions.
We had only transferred our bedroom to an upstairs room a few months ago. The upstairs shakes easily and the bedroom was not designed for a quick exit. So, after returning home on March 12 (we slept at the local golf club on March 11), we slept downstairs near the front door with the entrance light on and the door unlocked, keys and passports at the ready. Sleep was fitful at best. And what was it doing to my daughter. If there was a significant aftershock, we'd bundle her up and head for the front door.
"Jishin? Jishin?" she would ask, practising her latest Japanese word. When she looked at the news on the TV, she would say the same. "Jishin? Jishin?" I was worried her nerves were as frazzled as mine and my wife's.
Gas for cars was already being rationed, electricity cuts were on their way, you couldn't buy milk and some foodstuffs and there were predictions of large aftershocks and serious pollution from the stricken Fukushima Daiichi nuclear power station.
Geez, what would be the sensible thing to do in these circumstances? Ah! That's it! Stay at home and take it like a man, and tell my wife and child to stop whining. Living in fear would toughen them up!
Or I could go to a place where there were no earthquakes, no power cuts, plenty of gas, milk, water, food, life.
On March 15, we headed to Shimizu in Shizuoka Prefecture to stay in a hotel for four nights. After that, a friend lent me his family's mountain house near Umegashima hot-spring resort – very remote, very peaceful, fucking cold and famous for landslides. And right in the region where the Tokai Earthquake could occur, I foolishly reminded myself.
But lightning doesn't strike twice, does it?
We celebrated our escape that evening in a Korean restaurant. The beer tasted good. We could relax. As I drank my cold beer, the ground started shaking and shaking as a 6+ earthquake (on the Japanese scale; 6.2 on the Richter scale) shook Mt. Fuji, 50 km away.
In Japan, you can run, but you sure can't hide.

---