---
---
Most Leathernecks viewed Okinawans merely as more "Japs," who might look and act somewhat differently from those the Marines had previously encountered but who were still subject to suspicion and definitely not to be trusted. "All they know about Americans is what they get from Tokyo propaganda," the handouts warned, "so you can expect them to look at you as though you were a combination of Dracula and the Sad Sack— at first, anyway." What Tokyo was telling the Okinawans , and what was being reinforced by a large majority of the Japanese soldiers Tokyo had sent to their island, was that the Americans were devils, in the most literal and loathsome sense of the term. They were devils whose sole desire was to kill Okinawans in the most brutal , merciless ways possible. They would shoot Okinawan men on sight, but instead of a quick kill , they preferred to leave their victims writhing in agony for as long as possible. They would rape and torture Okinawan women and butcher their children before their eyes . At times, they would pretend to be friendly, but the gifts of candy or other food they offered were always laced with poison.
To emphasize these points, some Japanese soldiers supplied the Okinawans with grenades so that they could blow up themselves and their children before the American devils could subject them to their unquenchable bloodlust. But when U.S. troops began finding grenades hidden on civilians, their first assumption was that the explosive charges were intended to hurt or kill Americans, rather than as instruments of self-destruction. Hence, every confrontation between traumatized natives and wary invaders held the potential for violent tragedy. It may have been somewhat worse in the early going, but what no American could anticipate was the depth, intensity— and obsessive power— of many Okinawans' fear. It seemed to have a life of its own.
By their very nature, the Okinawans were a peaceful, nonaggressive people, who hadn't seen armed conflict on their soilin more than 300 years. Then the Americans had come, first to rain fire bombs and high-explosive shells on their cities and towns and later to storm ashore by the tens of thousands, sweeping across the countryside, brandishing their awesome weapons and , it seemed, searching for Okinawans to brutalize and murder.
"The most pitiful things about the Okinawan civilians," said PFC Gene Sledge of K/ 3/ 5, "were that they were totally bewildered by the shock of our invasion, and they were scared to death of us. Countless times they passed us on the way to the rear with fear, dismay, and confusion on their faces."
Author George Feifer cites the case of eleven-year-old Shigeko Sonan, eldest daughter of a family in Gushikawa, a village seven miles east of the landing beaches, near the east (Pacific) coast. Although ordered by the Japanese to evacuate before the landing, the family had elected to stay, and Shigeko, her three younger sisters, and their pregnant mother were terrorized by the preinvasion bombs and shells, some of which landed in their village. In school, Shigeko had been taught all about "subhuman Americans who drowned deformed infants and killed healthy but unwanted babies by bashing their heads against a wall," wrote Feifer in his book, Tennozan: The Battle of Okinawa and the Atomic Bomb. "She knew about their racist yearning to destroy and depopulate Divine Japan, except for the few attractive women they planned to keep for their insatiable animal lust." Not surprisingly, Shigeko was petrified with fear when the invaders began marching toward Gushikawa. When an American plane flew overhead, she believed it was shooting directly at her as she took cover. After the girl's father made his way home from working as an enforced laborer for the Japanese, the family decided to flee with as much food as they could carry and try to reach the northern village where they'd been assigned. But a bombed-out bridge forced them to leave their provisions behind, and they struggled on by foot, traveling only at night.
The family came close to starvation , but when Shigeko and the other children accepted chocolate and K-rations from the Americans, their parents threw the food away, fearing it was poisoned. Eventually , the children's hunger won out, and they ate some of the food, anyway. Otherwise, they subsisted on boiled grass, tree bark, edible palms, and discarded half-rotten sweet potatoes. As the family fled from one end of the island to the other, some of the huts where they hid were burned by advancing U.S. troops, and Shigeko witnessed the rape of a young woman by two American soldiers. At the scene of a fierce battle, they came upon dozens of blown-apart Japanese corpses. Too weak from hunger to dig deep enough to bury the bodies completely, they collapsed from exhaustion among the corpses, stuffing leaves in their noses in an effort to block out the smell. The family's plight continued for more than three months and might have lasted longer if Shigeko's mother hadn't given birth while seriously ill with malaria. The children were walking skeletons, and, because of her illness, Shigeko's mother had no milk for the baby. Faced with all this, the girl's father finally brought his family down from the mountains and surrendered to the Americans. Within a few hours, they were in a detention camp, where they were fed and sprayed with DDT, but the ordeal had been too much for Shigeko's four-year-old sister , who died a few days later of illness and malnutrition. Surviving family members weren't allowed to return to their village for ten months after the fighting ended, and when they got there, all their possessions were gone. Despite this, the Sonans were luckier than most Okinawan families. Only one family member had succumbed to their ordeal; none had met violent death at the hands of the American devils , and none had committed suicide.
Corporal Don Dencker of the 96th Infantry Division's 382nd Regiment, Second Battalion, had paused in the drive east across the island when he confronted his first civilians. As Dencker and his buddy, PFC Ernie Zimmer, were setting up their mortar and dining on K-rations, they noticed an Okinawan woman come out of a cave on a nearby hill. She glanced down at the two GIs for a moment, then quickly ducked back inside. Dencker hadn't seen even one Japanese soldier, either dead or alive, since coming ashore, but he decided the cave warranted investigation. With Zimmer covering him, he drew his .45 and approached to within about fifty feet of the entrance. "De-tay-ko-ee!" Dencker yelled. The strange-sounding phrase meant "come out" in Japanese and was among three or four potentially useful expressions included in the GIs' preinvasion orientation. Dencker waited. When nothing happened, he eased closer to the cave and yelled again: "De-tay-ko-ee!" This time , seven figures slowly emerged— three women, two children, and two old men— and stood staring at Dencker in obvious terror. When he motioned them forward, they took a few halting steps toward him, then stopped. The women sobbed and whispered nervously to each other. "Move! Move!" Dencker shouted, advancing to within a few feet of the group and pointing to the path that led down the hillside. The Okinawans still stood there immobilized by fright until one old man stepped forward . He pointed to the pistol in Dencker's hand, then to his own head, repeating the gesture several times until its meaning became distressingly clear: He was asking— actually pleading— for Dencker to shoot him in the head. Dencker refused, of course, and after several more minutes, he managed to coax the group down from the hill and into the company's defensive perimeter. When two MPs showed up a short time later and led the civilians away to one of the detention centers hurriedly being set up in rear areas , Dencker felt a surge of relief. For the time being, he thought , the war was over for these Okinawans, and they'd been spared— in part, at least, from themselves and their own anguished fears. But as Dencker and his comrades would later see with their own eyes, thousands of other innocent noncombatants would be denied this little group's good fortune. Within the next few days, they would come across the bodies of dozens of civilians who had died of self-inflicted wounds.
CORPORAL DAN LAWLER of K/ 3/ 5' s machine-gun section had never seen kids refuse to eat candy— not until now. But the little Okinawan boy, who looked about seven years old and had ventured out of a cave with his younger sister, was adamant about it. When Lawler held out a K-ration chocolate bar to the boy, he shook his head so hard that Lawler was afraid it would fall off his skinny shoulders. "They were the cutest damn kids you ever saw," Lawler recalled more than sixty years later. "Neither one of them appeared to be injured, but they were both so scared they were shaking, and their clothes were streaked with dried blood." Lawler continued to hold the chocolate bar out toward them, smiling and awkwardly repeating a phrase that he thought meant, "Don't be afraid. Come on out, and we'll give you some food." The boy shook his head again, his eyes wide with fright. "The kid thinks the candy's poisoned," said Lawler's assistant gunner. "The Japs've told these people if they ask us for anything we'll kill 'em. Maybe if you took a bite of the candy yourself, the kid might change his mind." Lawler shrugged and bit off a corner of the bar. He chewed it up and swallowed it, then licked his lips. "See, it's good," he coaxed. "Come on, try it." The boy took a couple of steps forward with his sister peeking out from behind him, then he hesitated and shrank back. Lawler broke the other corner off the bar and ate it, too, with elaborate expressions of enjoyment . "Umm, that's really delicious! You'd better come on and get it before I eat it all." The kids couldn't stand it any longer. The boy sidled up to Lawler, took what was left of the bar, broke off a piece for his sister, then gobbled down the rest. He managed a small smile as he turned and shouted something toward the cave. Then a whole group of Okinawans crept out into the daylight, smiling, bowing, and moving in slow motion with their eyes glued to Lawler and the other Marines. There were eight of them in all—two other children, two women, and two ancient, virtually toothless men. "We gave them all some candy," Lawler recalled, "but they still refused to touch it unless one of us ate some of it first. You could tell they didn't trust us as far as they could throw us."
As Ushijima's army deteriorated into small groups, desperate soldiers sought any means to elude advancing U.S. forces. Many attempted to slip past American lines by posing as civilians and mingling with women and children. "Near Itoman, we set up trip wires across the road that would set off flares if anybody hit one of them," recalled Lieutenant Colonel Spencer Berger, commanding the Second Battalion, Seventh Marines. "That night, a mass of people— about 150 of them— came along and set off our flares. Many of them appeared to be women in kimonos, but then our guys noticed that some of them were also wearing boots." Berger hesitated only a few seconds before ordering his troops to open fire. Almost every member of the group was killed —including more than forty kimono-clad Japanese soldiers.
Between June 1 and June 23, when the battle for Okinawa would officially end, American land and naval artillery eclipsed their earlier bombardments by pouring nearly 7 million rounds into the compressed southern area where the refugees crowded among the remnants of Ushijima's army. Dead and dying civilians littered the roads and roadsides as dazed orphans and maimed adults dragged past, some crawling on hands and knees, with no concept of where they were going. To Tokuyu Higashionna, an Okinawan schoolteacher who crossed the area while trying to reach the town of Kyan on the southern coast, the scenes of mothers carrying dead children and living children lying on the corpses of dead mothers defied description. It was, he said, "Utter horror… dead everywhere … everywhere!…literally hell." Every tragedy seems to have its elements of irony. The irony of this one was that, if the Okinawans had only done as they were instructed by either the Japanese or the Americans, the vast majority of civilian deaths could have been avoided. The Chinen Peninsula, which juts into the Pacific Ocean about four miles southeast of the town of Yonabaru, and where the civilians had been ordered to go by the 32nd Army, was almost totally untouched by the fighting. Likewise, if the noncombatants had assembled on the west coast highway and avoided Japanese troops, as the American leaflets urged , they also would have found safe haven, along with sufficient food and water, in the detention camps. As it was, however, close to 15,000 civilians are believed to have died during the retreat from Shuri alone— about the same toll suffered by Japanese troops— and those who survived then found themselves in a grinding trap between the armies from which there was no escape.
Evidence suggests that extremely few Okinawan civilians were actually "gung-ho" enough to stage deliberate attacks against Marines or GIs. But the thousands who leaped to their deaths from high cliffs, slashed their children's throats, or blew themselves to bits with Japanese-provided hand grenades to avoid American brutality are ample proof that the Americans' distrust was returned a hundredfold. Some sources contend, however, that the majority of Okinawans didn't commit suicide but became victims of disease, starvation, Japanese atrocities, and indiscriminate American bombing and shelling. "[ T] he greater number of civilians slaughtered on Okinawa… more often died in days or weeks rather than minutes," wrote historian George Feifer, "with that much more time to witness the agony of their families." Meanwhile, some of the same Japanese soldiers in whom the Okinawans had placed infinite trust became the natives' worst enemies. As the soldiers grew more desperate for food, water, and temporarily safe shelter, they systematically slaughtered men, women, and children who got in their way. Numerous eyewitness accounts tell of Japanese soldiers murdering crying children in cold blood for fear their cries would attract Americans to the soldiers' hiding places. Military deaths on both sides of the battle totaled just under 120,000— at least 20,000 fewer than the number of noncombatants who died during the same period, according to official estimates. Virtually every Okinawan lost family members to the battle . About one of every three civilians living on the island in the spring of 1945 was killed. As the Japanese 32nd Army was collapsing and during the final mop-up by American forces, approximately 80,000 Okinawan civilians surrendered to GIs and Marines. Up to half of these were wounded, and many might well have died without the food, medical care, and other assistance they received at U.S . refugee centers.
Sloan, Bill (2007-10-23). The Ultimate Battle: Okinawa 1945–The Last Epic Struggle of World War II (pp. 310-311). Simon & Schuster. Kindle Edition.
---
By FRED VARCOE
SINGAPORE, October 14, 2014 – Brazil striker Neymar gave a masterclass in finishing on Tuesday, scoring all four goals as Brazil beat Japan 4-0 in Singapore.
It was always going to be tough for Javier Aguirre's team against a strong Brazil lineup, but the Mexican manager fielded a very experimental team with only two regulars – striker Shinji Okazaki and goalkeeper Eiji Kawashima – in his lineup.
Early signs were good but on a simply dreadful pitch at Singapore's national stadium, it was never going to be easy and Japan weren't helped by some poor defending from Taishi Taguchi, who had a terrible game.
Neymar was into his stride early, claiming a penalty in the first few minutes and then forcing a foul as three Japanese defenders struggled to contain him. Neymar sent the free-kick against the post from 20 meters, delaying his inevitable appearance on the scoresheet.
That came soon enough. In the 21st minute, Neymar escaped the dozy defending of the Japanese backline, took the ball wide of Kawashima and drilled a shot into the roof of the net.
Japan had their chances but struggled to find the target. Kobayashi saw a neat 10-meter volley flash past the post in the 24th minute, a strong shot from Gaku Shibasaki flew over the bar six minutes later and Okazaki sent a glancing header wide five minutes after that.
A Junya Tanaka half-chance was desperately cleared by Brazil just before halftime, but defender Shiotani didn't have the composure to put the rebound on target, allowing Brazil to go into the break 1-0 ahead.
Aguirre brought on Keisuke Honda for largely anonymous Ryota Morioka at halftime, but the first action of the second half saw Brazil go 2-0 up.
More useless defending by Taguchi allowed Neymar a free run at goal and he calmly slid the ball past Kawashima.
Kawashima made up for that with a great save from Miranda, and Okazaki hit the post from a tight angle before Neymar proved he was human and missed an easy chance with just the goal to beat.
Substitutes Coutinho and Robinho also spurred good chances after being set up by Neymar and in the end Brazil's superstar had to do the hard work himself.
In the 77th minute, Kawashima made a fine save from a Kaka header and then turned away a shot by Coutinho, but the ball ran to Neymar who had an easy finish from close range for his hat trick.
But he wasn't finished. Brazil swept up the field in the 81st minute and Kaka lifted the ball to the back post for the unmarked Neymar to head in No. 4.
Japan fought a little harder in the dying minutes and Yoichiro Kakitani got a great head on Kosuke Ota's cross in the 89th minute only to see it tipped over by Brazil keeper Jefferson.
*******
The result was not much of a surprise but the gap between the major footballing powers and Japan remains big. Aguirre reckons his players play with passion, but who's he trying to kid? The likes of Shibasaki, Kakitani and Taguchi (not to mention Atsuto Uchida and Yuto Nagatomo) have all the passion of Japanese schoolboys.
Japan have an attitude problem, i.e., they don't have one. Aguirre needs to pump his players up, not blow smoke up their arse. Enough of the Zicos and Zaccheronis; Japan need a boss with anger. Get angry, Javier….
---
By FRED VARCOE
Niigata, Japan, October 10, 2014 – Japan managed to get their first win under new coach Javier Aguirre on Friday, but the 1-0 victory over Jamaica at Niigata's Big Swan Stadium was underwhelming at best, with the goal coming from an unfortunate defensive mishap.
To be fair to Aguirre, he's still looking for his best lineup and against Jamaica he mixed some of his more experienced stars – Shinji Kagawa, Keisuke Honda, Shinji Okazaki – with a bunch of relative newcomers: Tsukasa Shiotani, Masato Morishige, Gaku Shibasaki, Yoshinori Muto.
Obviously, this wasn't his best lineup. His formation was initially 4-3-3 with Hajime Hosogai as the sole holding midfielder but looked more like 3-5-2 in the second half. Not that it made a difference.
Honda danced around like Honda does, Kagawa was back to his Japan/Manchester United mindset, Shibasaki was largely ineffective in the playmaker's role and Muto couldn't cut it up front. Yuto Nagatomo and Gotoku Sakai put in some random crosses from the wings to no effect while Shusaku Nishikawa had virtually nothing to do in goal. Morishige was OK in the middle of defence while Shiotani didn't put a foot wrong and was the only Japan player to really shine on the day.
Jamaica tried their best and at least gave Japan a physical test, but in terms of technique and quality they are way down the totem pole. They would have done better to have tried to pressure Japan with Route 1 football rather than try to out-finesse their technically superior hosts. Sometimes primitive works.
So Japan weren't likely to lose the game, but they still struggled to win it.
Japan looked slightly more convincing early in the game. Muto had a good chance in the fourth minute but wanted too much time, while Honda forced Jamaica keeper Ryan Thompson into a great save from a smart free-kick in the sixth minute. Kagawa came up with a rasping 30-meter bomb on the quarter-hour mark but saw it flash past the post. But a minute later, Japan were in front.
Shibasaki got the ball on the right of the box and delivered a low ball in that Thompson could only parry against Nyron Nosworthy and the ball ran off his body into the net from a few meters out.
Jamaica made some good saving tackles in the game and Jermaine Taylor did brilliantly to stop Honda in the 23rd minute.
Sakai cut in well before unleashing a 25-meter shot in the 25th minute, but it went straight to the keeper and the full-back then set up Honda with a golden chance, but the AC Milan midfielder scooped the ball onto the bar as he tried to lift it over the keeper.
Okazaki had two attempts just before the break, including a reasonable overhead kick, but neither troubled the Jamaicans.
Jamaica brought on Michael Seaton and Darren Mattocks for the second half but still struggled to threaten the Japan goal.
Japan, meanwhile, continued to create chances and continued to waste them. Muto misfired on three occasions, while Okazaki tried hard but couldn't find the answer either.
After Kagawa sent a side-foot shot wide in the 65th minute, Wes Morgan saw a header loop onto the top of the net, while a 25-meter effort from Je-Vaughn Watson didn't get near the target. Seaton followed up with a nice run at goal but couldn't find an end product.
Another great tackle – this time by Morgan – prevented Kagawa from extending Japan's lead and Thompson did well to stop Yu Kobayashi's shot on the turn in the 72nd minute.
Nagatomo tried to gift Jamaica a goal in the 79th minute with a suicidal back pass to the unmarked Lawrence but the Jamaican wasn't sharp enough to take advantage of Nagatomo's gift and Morishige came in to clear the danger.
Three minutes after being booked for a foul on Hosogai, Watson escaped a red card after back-handing Shiotani in the face, but the ref didn't see it; most likely he'd fallen asleep, too.
There was little to celebrate for either side in this dance of under-achievement. Japan would do better losing to better opposition, as they probably will when they face Brazil in Singapore in four days' time.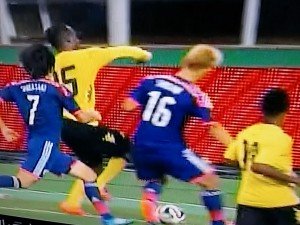 ---
By FRED VARCOE
Congratulations, Scotland, you've got a referendum. As a resident of Monmouthshire, nobody ever asked me if I wanted to live in Wales. Where was my fucking referendum when Monmouthshire was moved from England to Wales in 1974? There wasn't one. The best I could do after that was to vote Plaid Cymru in the hope that Wales would just fuck off and leave the rest of England alone.
I'm English, but possibly up to a quarter Scottish (Douglass and Brown if you're tribally inclined), so where should I stand on the Scottish referendum?
I'm English, so why should I give a fuck? In truth, if Scotland's getting a referendum on independence, England, Wales and Northern Ireland should be getting the same choice. Would I like to be independent of Wales? Fuck, yes. Scotland? Don't have a strong opinion about that, but it wouldn't worry me.
So what should the Scots do?
Well, they have to think about the currency, security, the EU, oil, their health system, the national debt….but, wait a minute…..
NO THEY FUCKING DON'T!
They have to ask themselves:
1. Do I feel primarily Scottish or British?
2. Would I rather live as a Scot under a Scottish government or as a Scot under the cunts who make up the British government?
YES or NO?
Scottish NO voters (why the fuck do foreigners in Scotland get a vote?) will, I believe, vote NO on the basis of security. They think things will be more secure, safer, more economically sound under a British government.
They can never go back to a union again. FALSE
They can't use the pound. FALSE.
They'll be shut out of the EU. FALSE.
The oil fields are in English waters. FALSE.
Banks will desert Scotland. FALSE.
You won't have a queen any more. FALSE.
While Alex Smugbastard may not be the poster boy I'd want for my country, I think I'd vote for him rather than the scaremongering and lying fuckheads in Westminster: David Camerloon, Corporal Clott and Ed Moribund. These people deserve to die horrible political deaths. They've already thrown away Britain's sovereignty to the even bigger cunts of the EU, so why are they bleating about a country that wants self-determination? Is Scotland Palestine in disguise?
Can separation work? Well if can work for the Czech Republic and Slovakia, Estonia, Latvia and Lithuania, Ethiopia and Eritrea, Sudan and South Sudan and the countries that used to belong to Yugoslavia, why the fuck can't it work between two brotherly countries of the United Kingdom? And most of those countries above were separated violently; this is being done by a referendum. It's about what people want, not what they've been forced into.
So the Scots are free to make a free choice. Good luck to them is what I say. If they vote to stay within the United Kingdom, I'll be fine with that; if they vote to go their own way, I'll be happy for them and, as a brother Englishman and part Scot, I'LL TRY TO HELP THEM, NOT TRY TO FUCK THEM UP.
The referendum's a good thing.
Now bring on the fucking EU referendum. NOW!
---
YOKOHAMA, Japan, September 9, 2014 – Defensive mistakes spoiled Javier Aguirre's second game in charge of Japan as his team twice let leads slip away in a 2-2 draw with Venezuela at Nissan Stadium in Yokohama.
After their 2-0 defeat to Uruguay in Sapporo on Friday, Japan started off brightly enough with Keisuke Honda firing just over the bar after 12 seconds. But it was a bit of a false dawn as the first half descended into a scrappy contest.
Venezuela's Rosales forced Japan goalkeeper Eiji Kawashima into a good save after 11 minutes, while Mario Rondon's volley went wide in the 24th minute.
Kawashima was again called into action to save from a decent effort by Rondon on the half-hour mark after some some poor play by Hosogai let the Venezuelans in.
Venezuela continued to carve out chances but luckily for Japan the next three went off target.
Japan sparked only occasionally but a nice move in the 38th minute forced a save out of the Venezuela keeper Herndandez.
Aguirre realised changes were necessary at the break and took off the lightweight pair of Yoichiro Kakitani and Yuya Osaka in favour of Shinji Okazaki and Yoshinori Muto.
The change paid off quickly for Japan.
Six minutes into the second half, Muto seized on a poor clearance from Venezuela, sprinted forward 30 meters and rifled in a left-foot shot from just outside the box.
Things were looking up and Maya Yoshida showed his confidence with a superb covering tackle in the 54th minute on Mario Rondon.
But three minutes later his fellow defender Hiroki Mizumoto let him down. The Japanese defender allowed Guerra to rob him of the ball in the middle of the park and after a chase into the box, brought him down.
Rondon stroked the penalty down the middle to make the score 1-1.
Suddenly, the game was livelier. Honda was able to be more involved than the first half when there was no pattern to Japan's attacking play, Muto was looking confident and Yuto Nagatomo started to make more runs down the left in conjunction with Okazaki.
And it was Okazaki who turned it on for Japan's second goal in the 67th minute. He sped down the left and put in a hopeful ball to the center where Gaku Shibasaki was on hand to sweep the ball home with a nicely controlled downward shot from 10 meters.
After Vizcarrondo brought down Muto just outside the box, Honda had a chance to put the poor free-kicks from Friday's game against Uruguay behind him and he did well but saw his shot rebound off the inside of the post.
That was to prove costly when Cichero unleashed a speculative shot at the Japan goal in the 71st minute. Kawashima had it covered all the way but let it slip through his gloves to make the score 2-2.
Kawashima made up for that with a neat save from a Rosales long shot in the 84th minute, but Japan couldn't pull another goal back and Aguire will have to wait another month for his first win.
---
By Fred Varcoe
SAPPORO, Japan, Sept. 5, 2014 – Javier Aguirre had a disappointing start to his reign as Japan manager after his side lost 2-0 to Uruguay at the Sapporo Dome on Friday.
Japan gifted Uruguay a goal in each half – Edinson Cavani in the 34th minute and Abel Hernandez in the 71st minute – and struggled to create chances.
Aguirre opted to play with Hiroshima's Yusuke Minagawa up front and a back four of Yuto Nagatomo, Maya Yoshida, Tatsuya Sakai and Hiroki Sakai. Masato Morishige and Hajime Hosogai played in front of them, with Keisuke Honda, Shinji Okazaki and Sporting Lisbon's Junya Tanaka providing the attacking impetus in midfield.
Japan started brightly enough and were able to keep Uruguay in their half of the pitch for much of the first half. Okazaki had an early but weak shot, while Honda planted the first of a series of free-kicks in the Uruguay wall.
In the 14th minute, Nicolas Lodeiro took a free-kick and Cristian Rodriguez had a free header but put his effort over the bar from 6 meters out.
Okazaki responded with some dazzling work down the left to give Minagawa a similar chance, but the Sanfrecce Hiroshima striker also headed over.
Japan came under pressure around the 25-minute mark and made a couple of very poor defensive headers, a sign of trouble to come as it turned out.
In the 34th minute, Hiroki Sakai played the ball back to his namesake Tatsuya who had the simple job of controlling the ball and getting rid of it as two Uruguayans bore down on him.
Unfortunately, he failed to cushion the ball and let it run to Cavani, who offloaded it to Diego Rolan. Cavani ran for the rebound before squeezing the ball past goalkeeper Eiji Kawashima and a desperate lunge of atonement from Sakai. Japan 0, Uruguay 1.
To be fair, Japan had acquitted themselves decently up to that point and the game was open, perhaps even there to for the taking by whichever team showed a bit of drive and imagination. Tanaka was looking the most likely to do the job for Japan but he didn't have enough strong support.
Japan need to find another Yasuhito Endo, a player who can take the ball and distribute it with ease. Japan were also missing Makoto Hasebe in defensive midfield and while Morishige did a decent job, Hosogai still has to turn in a convincing performance for the national team.
Tanaka's last major contribution was a decent 25-meter shot that went straight to Uruguay keeper Fernando Muslera. He was replaced by Yoichiro Kakitani with about a quarter of an hour to go.
Before that, Uruguay had gone 2-0 up. Hiroki Sakai, who had one of the first half's dodgy headers, inexplicable headed a cross back into his own box. Kawashima made a great save from Lodeiro's fierce shot but Tatsuya Sakai couldn't clear the ball and Hernandez rushed in to fire it home from close range.
Honda had time to fire his third crap free-kick into the Uruguay wall as Japan resorted to negative play and didn't look like scoring.
However, in a rare ray of hope, substitute Yoshinori Muto saw a lovely 25-meter volley bounce off the inside of the post in the 88th minute.
Japan weren't going to get any closer than that and will have to hope for better luck against Venezuela on Tuesday.
---
By Fred Varcoe
I wrote this as a response to an article by Scott Snyder and Brad Glosserman on Council on Foreign Relations site Asia Unbound in which they explore problems between Japan and its neighbors, starting out with the issue of "national identity."
"A deeper, and more compelling, dimension of the split between Japan and the ROK as it is currently framed: contradictory conceptions of national identity that stand in the way of reconciliation steps necessary to improve relations."
 ************************
 The issue of identity is interesting. I would say your average Japanese has a very weak concept of self or identity, even less so when framed in historical terms. The average Japanese person has a poor grasp of history, if any grasp at all. The problem with Japan's current brand of loud nationalist politicians is that they have the stage and theirs is virtually the only voice out there. So when someone like Prime Minister Abe – as intellectually disadvantaged as a politician can be – says 'this' happened in history and we must resist Korea because of it, quite a few Japanese will believe what he is saying because they have no points of reference to refute such claims; because – intellectual capacity notwithstanding – he's prime minister; and because Japanese have a bad habit of believing anyone who's always on TV.
The Koreans, on the other hand, have a very powerful sense of self and identity, and a strong sense of history (or should that read 'injustice') and did so long before the Japanese annexed their country. The oft-portrayed image of Korea as merely a peasant country prior to (and even during) the 20th century does Koreans a disservice. They have trailed Japan in terms of modernisation in the 20th century, but they have always had a sense of self, a proud history and the ability to make progress.
If anything symbolizes Korea's relationship with Japan, it is probably the assassination of Queen Min:
"In the fall of 1895, Japanese ambassador to Korea Miura Goro formulated a plan to assassinate Queen Min, a plan that he named 'Operation Fox Hunt.' Early in the morning of October 8, 1895, a group of fifty Japanese and Korean assassins launched their assault on Gyeongbokgung Palace. They attacked the queen consort's sleeping quarters, dragging out the queen and three or four of her attendants. The assassins questioned the women to make sure that they had Queen Min, then slashed them with swords, stripped, and raped them. The Japanese displayed the queen's dead body to several other foreigners in the area, particularly the Russians, so that they knew their ally was dead, and then carried her body to the forest outside the palace walls. There, the assassins doused Queen Min's body with kerosene and burned it, scattering her ashes."
This was followed by annexation and domination as the Japanese forced Koreans to adopt Japanese names and only use the Japanese language as they tried to wipe out Korea's culture and enslave its population. I don't think a few new roads, railways and some fancy architecture will compensate for that. And that only ended 70 years ago. This is living memory.
Japan's sense of victimhood is based entirely on the fact that it lost the war and was humiliated. It's almost comical how they try to offset decades of rape and pillaging in Asia with the suffering its citizens endured in Hiroshima and Nagasaki. After visiting the Atomic Bomb Museum in Nagasaki (or was it laughingly called the 'Peace Museum' to go along with the Peace Park, etc.?), I wrote: "The only surprising thing about Nagasaki is that foreigners don't have 'guilty' stamped in their passports when they leave." As a result of Japan's distorted view of history, most Japanese think that Hiroshima and Nagasaki had nothing to do with what went before. They believe the atomic bombings happened because of American aggression, not because of Japan's insane rampage through Asia and their attack on Pearl Harbour.
"The main missing ingredient necessary to achieve the task of healing the divisions between South Korea and Japan is statesmanship."
Well, good luck with that one. You're not wrong. Japan is desperate for a leader and hasn't had one since … er … never. No matter what he believes personally, a Japanese statesman should not visit Yasukuni Shrine while in office. It doesn't make any political sense at all. Nationalist Japanese politicians use Yasukuni as a political booster, but for prime ministers, ministers and senior government officials it is self-defeating. It says to Korea, China, etc., 'You can't tell us what to do." It's more about trying to prove they have big penises, which they don't. Most Japanese politicians are emasculated by local politics, bureaucrats and inferior intellects. They don't have the intelligence or the freedom to explore their own thoughts – and that's probably a good thing.
Korean politicians are characterized by egotism, avarice and regionalism. Right-wing politicians are seen as true defenders of the nation; left-wingers, like the admirable Roh Moo Hyun, are labelled Communists. President Roh offered Korean society hope like no other politician had done before him. He was exploited by those around him and ended up killing himself…
The only person who can help to resolve the historical issues between Korea and Japan is the Emperor of Japan, but he is also constrained by politicians and the bureaucracy. He was invited to Korea for the opening of the 2002 World Cup, but it was never going to happen. So maybe resolution of this issue is also never going to happen.
A 'no-war statement' between Korea and Japan? That's not much of an idea and even if one did materialize it wouldn't be worth the paper it was written on.
"Japan should declare its support for the unification of the Korean Peninsula under the Seoul government, a statement that would end speculation about long-term intentions in Tokyo about the fate of the Peninsula."
Not sure that this wouldn't be construed as Japan interfering in the internal affairs of Korea. Of course, we're going off topic here, but Seoul is not the legitimate ruler of the entire Korean Peninsula.
The establishment of "a day for the two countries to jointly commemorate the history of the 20th century without being entrapped by it."
Another wishy-washy idea that isn't going to happen. August 15 celebrates liberation for the Korean Peninsula. They're not going to want to stop celebrating that and why would they? It would be like asking the United States to stop celebrating July 4 (Independence Day) because it offended the British.
For right-wing dingbats like Abe, August 15 is not about reflecting on the war and Japan's dead soldiers; it's more about keeping alive an idea that didn't quite pan out first time around but needs to be remembered for the next time.
In conclusion, the sadness of the conflict between Japan and South Korea is the division that moronic politicians are trying to make between two peoples who are quite comfortable with each other. The liberalisation of Japanese culture in Korea a decade ago and the reverse "Korea boom" in Japan made a huge people-to-people boost in the relationship. The "bottom-up approach" endorsed by Lee Chae-ryung makes sense if only evil politicians would just shut up and do their job of leading their citizens and countries toward a better future.
But I guess that's not going to happen either.
---
 By Fred Varcoe
It was nice to see the Foreign Correspondents' Club of Japan invite two right-wing politicians to the Club to express their views on the "comfort women." Tokyo-based politicians Yoshiko Matsuura and Tomoko Tsujimura demonstrated how the right think in Japan. Or, to put it another way, how the right is incapable of thought.
Matsuura and Tsujimura arrived to explain how they travelled to Glendale, Calif., to protest at a statue of a "comfort woman" being erected in a public park. The protest was accompanied by a letter – from the Japan Coalition of Legislators against Fabricated History, which was signed by hundreds of legislators – to Glendale Mayor Dave Weaver explaining why they were protesting.
Here are some excerpts and comments:
1.     "We are committed to instilling a fair-minded, accurate perception of history in our children."
A noble idea that has never been part of the Japanese mentality. Japan has consistently denied crimes committed in the past – as it denies truths that it doesn't want made public. They constantly denied Unit 731 existed in China until incontrovertible evidence emerged. Sweep everything under the carpet is their modus operandi. If we can't see it, it didn't exist. It is ironic that the many signees to the letter to Mayor Weaver portrayed the message of the statue as a "distorted view of history."
2.     "Japanese military authorities never forced Korean women to engage in prostitution. The comfort women were part of a legally sanctioned prostitution system, similar to others in existence throughout the world. They were handsomely remunerated; the word 'sex slaves' is an inaccurate description of the comfort women."
It is quite possible that real prostitutes from Japan, Korea and other countries sought to make money from Japanese soldiers. The right wing in Japan often cites an American Army report from Burma that suggested that some girls they came across were professionals (i.e., prostitutes) and making a good living. But no one outside Japan has suggested that this single report exonerated Japan over this issue or that this represented the true, broader picture of what was going on in Japanese military brothels.
3.     "Also engraved on the statue is the following: 'In memory of more than 200,000 Asian and Dutch women who were removed from their homes in Korea, China, Taiwan, Japan, the Philippines, Thailand, Vietnam, Malaysia, East Timor and Indonesia, to be coerced into sexual slavery by the Imperial Armed Forces of Japan between 1923 and 1945.' However, the Japanese military never abducted women or compelled them to serve as comfort women."
The speakers and other right-wingers in Japan claim that the Japanese military never abducted women. And they absolve themselves entirely by blaming recruitment on local agents. This is to some extent true, but there is little doubt that the agents were working on behalf of the military and the military was fully complicit in these crimes against humanity. Whatever the chain of command may have been, the women were conned into working for Japanese military brothels. If they had been independent prostitutes, as the Japanese imply, then they would have been free to go where they wanted and fuck who they wanted. But they were typical examples of human traffic, conned into believing they would be properly employed (e.g., in a factory) and reimbursed. The traffickers then imposed an artificial debt on them – typical of today's traffickers – which they had to work off by being raped by Japanese soldiers (up to 40 a day). The vast majority of these women were not free, certainly were not prostitutes and definitely didn't want to be where they were. They were enslaved and, let's be quite clear, they may have been recruited by "agents" (and there is evidence of military complicity) but they were slaves of the Japanese armed forces. Lack of freedom = slavery.
4.     "Japan is a nation whose culture places great value on women, as evidenced by the fact that works about romantic love created by women writers such as Murasaki Shikibu."
Anyone who has lived in Japan for any length of time knows that Japanese women are far from being equal with men:
From the Asahi Shimbun:
"October 26, 2013
Japan's ranking for female equality has fallen a further four places from 101st in 2012 to 105th this year, according to the newly released 2013 Global Gender Gap Report, ranking women's equality in 136 countries.
The ranking is Japan's lowest since the World Economic Forum started releasing its annual report in 2006.
The report, released on Oct. 25, said that Japan is failing to have women more involved in society despite their achieving a high education level."
Murasaki, of course, created the "Tale of Genji," a book that is revered in Japan but is basically about a paedophile rapist…
5.     "The Japanese Government-General of Korea prosecuted and punished deceitful brokers at every opportunity. But neither government nor military entities were involved in any way whatsoever in recruiting the comfort women."
Another copout. I don't think the Government-General of Korea did a very effective job of prosecuting and punishing deceitful brokers. More to the point, if this was the case, why were the women recruited not sent home if the Government-General of Korea was aware they'd been tricked into serving in the brothels? The inescapable fact is that the Japanese military wanted the women in the brothels, didn't care how they got there and would keep them there no matter what their recruitment involved.
 *************************
 I had a simple question for these women at the FCCJ. It was this:
"Were Koreans forced to work in the mines in Oita?"
They refused to answer the question. At first, they said they were only there to talk about comfort women before rambling on about how Koreans and Japanese were working together to win the war, which I thought showed they had a sense of humor before realising that they weren't joking.
But the question had a purpose. My Korean father-in-law was forced to work in the mines in Oita during the war. Mr. Lee was a noble man of unimpeachable integrity. His admission was not a trick to get money from Japanese companies or the Japanese government. In fact, it was a painful memory for him and one he only shared with his family a few years before he died.
So I wanted to know what Matsuura and Tsujimura thought about Korean workers in Kyushu. Were Koreans like Mr. Lee forced to work down the mine. Their reluctance to answer spoke volumes.
If they believed (and I'm sure they did) that Koreans were forced to work down the mines in Kyushu, then it shouldn't be a surprise if women were forced to work in brothels for the military. If they had said Koreans weren't forced to work down the mines, then they were calling my father-in-law a liar. I know he wasn't. So for me, their arguments have zero validity.
In fact, they were asked how many Koreans they had spoken to about this issue and the answer was none. Tsujimura, proudly related how she had spoken to her military grandfather about the war but failed to tell us how many Korean "prostitutes" he had slept with.
*************************
Tsujimura also tried to suggest that Japan had "civilised" and modernised Korea during its occupation, with one of her arguments being that the number of children being born rose dramatically during that time. Again, she failed to understand why.
My mother-in-law married my father-in-law at a young age, as did many other Korean women, at a time when North Korean agents were kidnapping residents of the South, especially young women. The young women of the South saw marriage as a form of protection against the marauding insurgents from the North, and it is likely that women in colonial times in Korea sought similar protection, as outlined in this quote:
"The Korean cult of female virginity which strictly enforced the norm of girls' premarital chastity, unwittingly served as an important contributing factor in rendering Korean unmarried women desirable recruits in the eyes of the Japanese authorities. Indeed, Aso Tetsuo (1910-1989), an army doctor, concluded in his report – written after his medical examinations of the women – that unmarried Korean women, rather than Japanese prostitutes, would make better 'gifts for the Emperor's warriors.' The indigenous sexual culture, with its emphasis on what I call 'virginal femininity,' thus helped render colonial Korea a prime source of young 'virgins' to satisfy the needs of the Japanese military comfort system." – from The Comfort Women: Sexual Violence and Postcolonial Memory in Korea and Japan by C. Sarah Soh.
So you can see, being an unmarried girl/woman in colonial Korea made you a target.
According to Soh's book, Japanese historian Yoshimi Yoshiaki found six official documents in the Library of the National Institute for Defense Studies that "clearly implicate the Japanese government in the establishment and maintenance of the military comfort system."
One of the disturbing aspects of the FCCJ press conference was how Matsuura and Tsujimura sought to turn the issue around as a Korean attack on Japanese. While the statue in Glendale was erected largely at the behest of Koreans, it represents the sex slaves of many nationalities. Tsujimura claimed that Japanese schoolchildren were being bullied by Korean kids in California and asserted that this amounted to "racial discrimination." Being a historical dunce, she is obviously unaware that the Japanese and Koreans are the same race. More to the point is the fact that Dutch, Australian and many Asian women were victims of the comfort women system. It is not just about Korea and Japan. Jan Ruff-O'Herne is one of those former sex slaves who has spoken out on the issue. Like others, she didn't want to revisit the past, but Japan's denials re. the Korean comfort women forced her to speak out 50 years later.
"First it was only the Korean women, and nobody took any notice because 'they were only Asian women'. But then when a European woman spoke out the world suddenly took notice," Mrs Ruff-O'Herne said.
 *************************
Another constant factor in this debate is the issue of apologies. In 1993, Chief Cabinet Secretary Yohei Kono issued a statement that many see as an apology by the government of Japan for the comfort women issue:
 "The Government of Japan has been conducting a study on the issue of wartime "comfort women" since December 1991. I wish to announce the findings as a result of that study.
   As a result of the study which indicates that comfort stations were operated in extensive areas for long periods, it is apparent that there existed a great number of comfort women. Comfort stations were operated in response to the request of the military authorities of the day. The then Japanese military was, directly or indirectly, involved in the establishment and management of the comfort stations and the transfer of comfort women. The recruitment of the comfort women was conducted mainly by private recruiters who acted in response to the request of the military. The Government study has revealed that in many cases they were recruited against their own will, through coaxing coercion, etc., and that, at times, administrative/military personnel directly took part in the recruitments. They lived in misery at comfort stations under a coercive atmosphere.
   As to the origin of those comfort women who were transferred to the war areas, excluding those from Japan, those from the Korean Peninsula accounted for a large part. The Korean Peninsula was under Japanese rule in those days, and their recruitment, transfer, control, etc., were conducted generally against their will, through coaxing, coercion, etc.
   Undeniably, this was an act, with the involvement of the military authorities of the day, that severely injured the honor and dignity of many women. The Government of Japan would like to take this opportunity once again to extend its sincere apologies and remorse to all those, irrespective of place of origin, who suffered immeasurable pain and incurable physical and psychological wounds as comfort women.
   It is incumbent upon us, the Government of Japan, to continue to consider seriously, while listening to the views of learned circles, how best we can express this sentiment.
   We shall face squarely the historical facts as described above instead of evading them, and take them to heart as lessons of history. We hereby reiterated our firm determination never to repeat the same mistake by forever engraving such issues in our memories through the study and teaching of history.
   As actions have been brought to court in Japan and interests have been shown in this issue outside Japan, the Government of Japan shall continue to pay full attention to this matter, including private researched related thereto."
A number of prime ministers and politicians have issued apologies, although they are often vaguely phrased to allow Japan to squirm out of direct responsibility.
The closest the Emperor came was this statement to South Korean Prime Minister Kim Dae Jung in 1996:
"There was a period when our nation brought to bear great sufferings upon the people of the Korean Peninsula. The deep sorrow that I feel over this will never be forgotten."
Under the premiership of idiotic revionist Shinzo Abe, there have been calls for Japan to amend the 1993 Kono statement, suggesting there may be doubt about the testimony of Korean women that the statement was based on. And here lies a problem, namely that Japanese politicians are inherently duplicitous and unreliable, so any statements they make are without value.
The only person who could put an end to the issue would be the Emperor, but he is constrained in his statements by the revisionist politicians and conservative bureaucrats that run Japan.
*************************
 Japan also points out that all issues concerning the war were resolved when the two countries normalized relations and "settled" all outstanding wartime issues. But this was an agreement between a right-wing Japanese government and the South Korean government of military dictator Park Chung-Hee. Park was a proud servant of the Japanese colonial rulers, joined the (Japanese) Manchukuo Army and, according to a report in the Hankyoreh newspaper, even signed an oath of allegiance to Japan in his own blood.
The 1965 treaty was a diplomatic agreement that rode roughshod over the human problems created by Japan's past. It was about business and money, not about human suffering or individuals. Technically, the two countries resolved their differences and established diplomatic relations, but this is a human issue and the humans involved are still suffering.
This was brought home to me several years ago when I visited England with my Japanese girlfriend. We arranged to visit my friend Debi at her parents' house. When Debi's father heard a Japanese was coming to his house – a cute, lovely and kind Japanese – he walked out and refused to return until the Japanese had gone. He had been a prisoner of war of the Japanese in Singapore and the mere thought of hearing Japanese or being in the same room as a Japanese filled him with painful memories.
For him, it was a reminder of the hate and violence he experienced at the hands of the Japanese. The comfort women are reminded of that hate every day not only through their own experiences, but also through the persistent attempts by Japan to deny that such atrocities ever took place. Would Matsuura and Tsujimura call Debi's father a liar, like they do my father-in-law?
Probably, especially if he was Korean…
*************************
Links:
Park Chung Hee signs oath to Japan in blood
Excerpt from book on comfort women (Google books)
Japan PM denies coercion re. comfort women
Australian 'comfort woman' slams Japan
Comfort women article by Suvendri Kikuchi
---